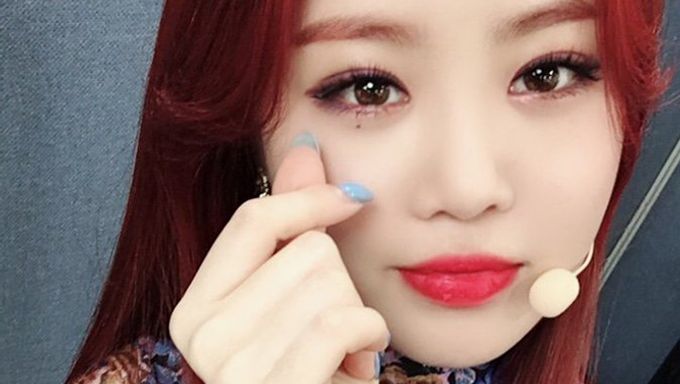 Taking good selfies and photos depend most of the time on a person's skills as well as the angle of the phone he or she is holding! Usually, people tend to hold the camera far away from their face.
However for some idols, such external factors do not really matter and they look really good even if their face are close to the camera.
Recently, 6 different female idols had gotten the attention of us because of how cute, pretty they look even if they are close to the camera. Let's find out who they are!
#1 GFriend's YuJu
Fans found YuJu extremely adorable when she placed her face so close to the camera! Not only does she gave the fans a different impression by wearing glasses, YuJu pouting her lips also caused many to go 'aww'.
#2 Suzy
Suzy is a definition of a gorgeous person and undeniably, fans found her visuals stunning when she took a selfie of her some time back then. With her head slightly tilted to the side, fans think that it is most probably the most flattering angle for her!
#3 AOA's SeolHyun
SeolHyun is another idol who is definitely confident in her looks! It seemed like the selfie was taken really close to her but it turned out to look great! Many are definitely jealous of her beautiful visuals.
#4 TWICE's Sana
Sana is known by many for her small face and that is definitely a compliment in South Korea! Her face looks stunningly small even when she took a selfie within close distance by the camera.
#5 (G)I-DLE's SuJin
SuJin may be a rookie K-Pop idol but she is definitely not one when it comes to taking selfie! She knows how to angle her face and also place her hand by the side of her face to give the illusion of having a 'slimmer' face.
#6 OH MY GIRL's JiHo
We also cannot forget JiHo! Ever since OH MY GIRL's latest comeback, JiHo has been getting a lot of attention lately for her lovely style and looks. Together with this cute selfie, she looks even more lovable. Do you agree with her fans?
Read More : Female K-Pop Idols Who Made Millions As Teenagers