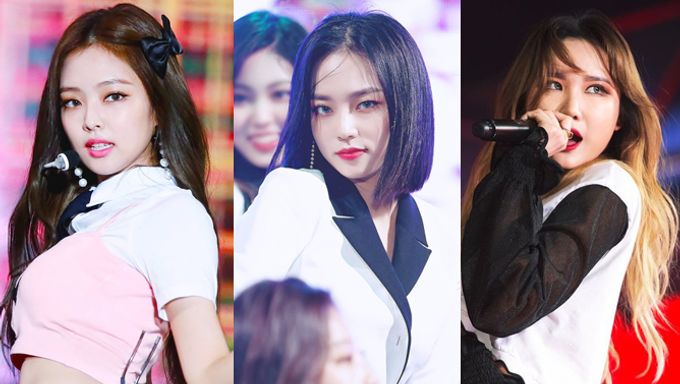 These days, not only the main vocals of K-Pop idols group are getting the attention from fans and others. If the group itself has a rapper blessed with his or her own unique voice, it is bound to get even more light from the public.
In addition to that, there has also been many rapping contests and TV shows that South Korean broadcasting sites have came up with. To give examples, shows include Mnet "Unpretty Rapstar", "Show Me The Money" and recently "High School Rapper". Many of the contestants also include K-Pop female idols.
Let's find out who are these amazing and awesome 6 ladies, shall we?
#1 EXID's LE
Since her debut, EXID's LE has been getting attention for her sexy voice. She has also collaborated with many artists including HyunA in the past!
#2 MAMAMOO's MoonByul
You can't miss out MoonByul if you are talking about girl group rappers. Her amazing and deep voice in contrast to the rest of the members' voices is definitely unique and appealing to fans.
#3 OH MY GIRL's Mimi
Mimi is also another idol you cannot missed out! Apart from the cute and sweet concepts OH MY GIRL have been doing, she looks amazing and unbelievable when she raps.
#4 CLC's YeEun
For CLC's most recent comeback, YeEun has surprised fans with her new bob hair cut. For some reason, it gave her an unique and super sexy look. In addition to her rap style, she is definitely gaining the attention from many now.
#5 BLACKPINK's Jennie
No one can forget about her. Even before her debut, Jennie was featured in G-Dragon's songs and her voice has been gaining lots of attention.
#6 WJSN's Exy
Exy is one of the rising idols who has actually participated on Mnet "Unpretty Rapstar"! Compared to her sweet and angelic looks, she really had her game on back then!
Read More : List of K-Pop Male Idol Rapper Members' Unique Signature Catchphrase