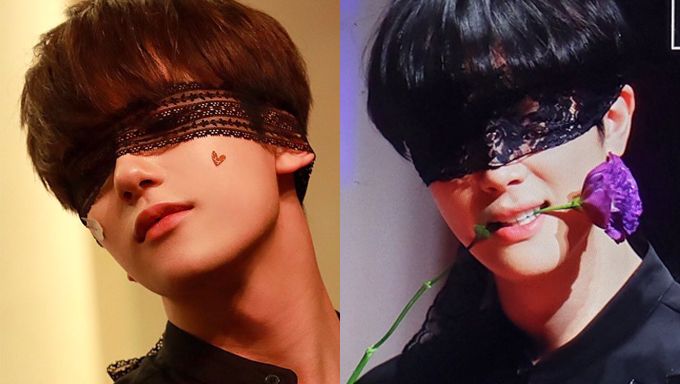 One reason why K-Pop is so appealing to so many is not just because of their catchy tunes, dance moves and extraordinary visuals but also because of the variety of genres. K-Pop idols stretch their potential and pull off different concepts given to them.
It has gotten the attention of Kpopmap that for the past few years, many K-Pop idols are exploring different styles and one of the well-received concepts is none other than using a blindfold.
Not only does it make the idol looks mysterious and sexy, it also gave them a different image which fans could barely see often. Previously, we had covered 8 different K-Pop group and idols and you can take a look at part 1 here.
For now let's take a look at the 6 other idols below!
#1 THE BOYZ's HyunJae
During a recent fansign event, HyunJae and several members were noted to be playing with a piece of lace blindfold. Each of them had tried to cover it over their eyes and it had caused many fans to gasp when they had done it.
#2 THE BOYZ's HakNyeon
Member HakNyeon decided to be more 'daring' as not only did he tie the lace blindfold over his eyes, he had also bite a piece of carnation!
#3 THE BOYZ's YoungHoon
Moving on, YoungHoon's visual is also a stunning one as he looked like a piece of artwork with the blindfold around him.
#4 THE BOYZ's SangYeon
Finally, we also cannot forget about SangYeon who was posing handsomely with the blindfold.
#5 1THE9's YeChan
1THE9's YeChan is also an idol who had previously wowed his fans with his appearance of a blindfold over his eyes. The blindfold is slightly different from the usual lace which we had seen but he also eluded a hint of sexiness.
#6 A.C.E 's Jun
Of course, we also cannot forget Jun from A.C.E who had showed his fans different sides of himself especially with the blindfold.
Read More : 8 K-Pop Idols And Group Who Look Mysterious And Alluring With A Blindfold