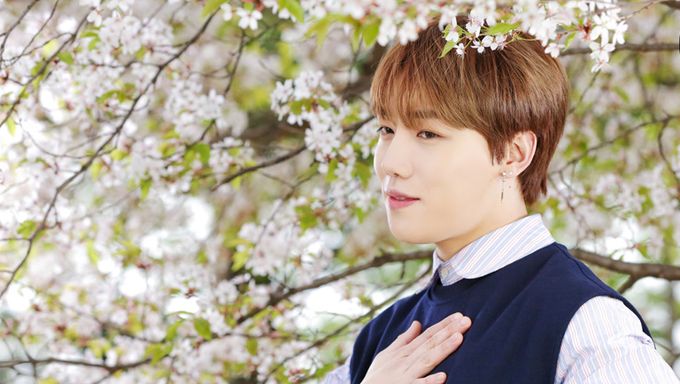 We are coming to the end of March and the start of April also signals the begin of the cherry blossom in Korea. Previously, Kpopmap had written an article about 6 different K-Pop male idols you wish you could see cherry blossoms with.
This time, we are back with 6 more K-Pop idols which would suit the occasion really well.
If your bias is not on this list, comment down below and share with us who they are!
#1 SF9's TaeYang
SF9's TaeYang has been gaining the attention lately of many netizens and FANTASY thanks to his aesthetic Instagram pictures which he had been uploading. His casual and light fashion is something many love especially if they were to be able to check out the lovely cherry blossoms with him.
#2 CIX's SeungHun
It would be hard to deny that SeungHun from CIX is good at taking photos! Imagine how SeungHun would be directing your poses and angles while he tried to capture the best photo of you standing in the middle of cherry blossoms.
#3 Golden Child's JangJun
It is hard to resist idols who are able to portray adorable and charismatic sides of them at the same time and JangJun is definitely one of them. Many fans would fight to get the chance to check out cherry blossoms with him!
#4 MONSTA X's MinHyuk
MinHyuk is one of the 'flower' boys out there among the K-Pop idols and it would be a honour to be able to walk down the street with him one day to check out the cherry blossoms. Imagine taking a walk down the street of cherry blossoms with MinHyuk while he takes sips of his chilled coffee!
#5 VICTON's ByungChan
No one can say no to those lovely dimples of ByungChan especially if you have the chance to check out the pink cherry blossoms with him! You can be assured that he will be taking tons of photos for you and even ask you to take photos of him standing in front of the cherry blossoms.
#6 ATEEZ's HongJoong
HongJoong is well known among ATINY that he writes songs and it would be really romantic for him to write his feelings down while looking at the cherry blossom with you. This might sound like a little far fetch but it is not a crime for such imagination.
Read More : 6 Female K-Pop Idols You Would Want To See Cherry Blossoms With