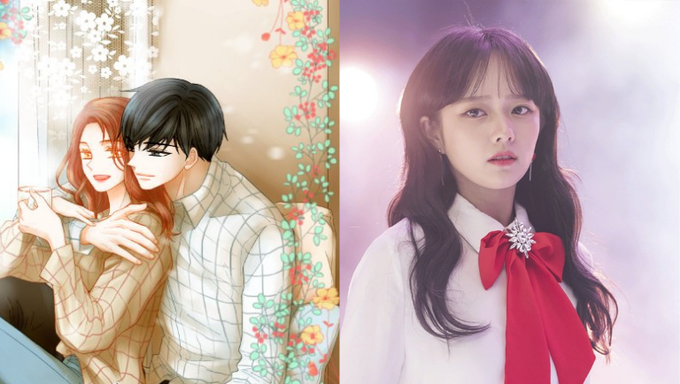 "Imitation" has been one of the most anticipated webtoons turned K-Drama adaptations for the following reasons. One of the greatest concerns for webtoon fans, when they hear about their favorite webtoon being adapted into a drama, is how similar the two are going to be. If you read the first episode of the "Imitation" webtoon and then watch the first episode of the K-Drama, you will almost immediately notice that the storylines are different.
The K-Drama was written by Choi SunYung and Kim MinJung and directed by Han HyunHee (you may be familiar with Han HyunHee's work as he also directed the 2019 K-Drama "Rookie Historian Goo Hae Ryung"). The production team clearly took a lot of liberties on the webtoon and has changed a lot of the plot, as well as character profiles. The webtoon was originally written by Park KyungRan and despite all of the differences, even she has fallen into the new plot twists of the K-Drama! You can read the official webtoon in English here.
Here are 6 differences you might notice upon reading the webtoon and watching the drama for "Imitation!"
Warning: This article may contain spoilers for Episodes 1, 2, and 3 of the K-Drama and episodes 1 to 9 of the webtoon!
1. Different group dynamics
This story focuses on three fictional K-Pop idol groups. The first fictional group is Tea Party, made up of members MaHa (played by actress Jung JiSo), HyunJi (played by former PRISTIN member Lim NaYoung), and Ria (played by soloist MinSeo).
In the webtoon, the girls seem like they are high school friends who had dreams of becoming famous and thus formed a group. Whereas, in the K-Drama, MaHa was originally part of a different agency than HyunJi and Ria. Hyunji and Ria were actually about to debut with a third group member as a girl group called OMEGA 3. However, due to some conflict with the company, they ended up losing their third member and MaHa (who was in danger of being discarded by her own company) ended up switching over to become the new third member of OMEGA 3.
Our next group is SHAX, they consist of male lead Kwon Ryuk (played by U-KISS's Jun), Hyuk (played by ATEEZ's JongHo), LeeHyun (played by SF9's HwiYoung), DoJin (played by Park YuRi), and JaeWoo (played by Ahn JungHoon). There is also the former member EunJo, who is played by SF9's Chani. Although they are a fictional group, SHAX has gained so much popularity that they have even entered idol brand reputation rankings. Read more about that here.
In the first few chapters of the webtoon, there is no real mention of EunJo. In the K-Drama, however, his disappearance is emphasized as important to the storyline and SHAX's current position in the entertainment scene. He is vital to both forms of the story, but it seems like the webtoon wants to create some suspense and reveal him to readers later in the plot.
The final fictional group is SPARKLING, with members YuJin (played by ATEEZ's YunHo), SeYoung (played by ATEEZ's SeongHwa), MinSoo (played by ATEEZ's San), and HyunOh (played by Boys Republic's SuWoong). They are also portrayed differently in the webtoon and drama.
Not only is SPARKLING slightly more famous in the webtoon, but they also seem to have a better relationship. When MaHa is stranded after a drama filming, they all go to pick her up. Meanwhile, in the drama, they are not as popular which causes them a lot of stress. This stress creates tension between YuJin and HyunOh. So, YuJin is forced to sneak out and pick MaHa up without letting his members figure out what he is doing.
2. Timeline
In the webtoon, the "Imitation" storyline starts at a K-Pop idol sporting event similar to the "Idol Star Athletics Championships (ISAC)" that were held annually, pre-COVID, for K-Pop stars in real life. The story continues linearly after that.
The K-Drama, however, plays with timelines more and starts in 2017 at SHAX's rehearsal for the MML Festival which was a crucial part of their backstory. It also has an epilogue at the end that slowly reveals how all the characters met, going further back in time. 
3. Tea Party manager's attitude
In the webtoon, Tea Party's manager (CEO JiHak played by g.o.d's Danny Ahn) seems less self-assured in his decision to take on their management. He seems very anxious about whether the girls will succeed or not and he places a lot of importance on the amount of money and debt that everything regarding them is costing him. It sometimes feels like he holds it over the girls' heads that they should do well so that his investment doesn't go to waste.
Whereas, in the drama, he is more calm and collected. He seems sure that Tea Party is going to hit the big time. He may be slightly anxious at times, but he never makes mention of the money in such a way that would make the girls feel indebted to him or responsible for any monetary losses. He is definitely more deliberate with them and seems to believe in them more, in the drama.
4. The most popular member of Tea Party
In the webtoon, HyunJi is the most popular member of Tea Party. During the first episode, after MaHa hurts Hyuk during a challenge, she goes viral on search engines for causing trouble with a SHAX member. This gives a lot of attention to Tea Party and results in HyunJi being noticed for her visuals. Netizens leave comments about how angelic she looks and this results in her becoming the most popular member. Thereafter, HyunJi gets the most opportunities scheduled and also the priority when it comes to attention from their manager.
In the drama, that sporting contest does not happen and MaHa goes viral for her impersonation of La Lima (played by T-ARA's JiYeon) instead. The impersonation is acknowledged in the webtoon as well, but not given as much weight in the storyline. In the drama, MaHa is the most popular, booked, and busy.
5. Producer of Tea Party and SHAX's singles
 In the drama, one of the producers who is considered the best in the industry actually has a ghost producer who works on most of his songs. This ghost producer works with SHAX and eventually ends up producing Tea Party's debut single. However, in the webtoon, it is actually a hotshot producer who creates both groups' singles. The SHAX and Tea Party members still have studio interactions in both versions though. The video below shows a scene that is similar in both mediums of "Imitation."
6. MaHa and Kwon Ryuk's K-Drama filming
MaHa has a knack for acting in both the webtoon and the drama. In the webtoon, she is given a role as the murder victim of Kwon Ryuk's character and they have a scene where he has to strangle her. She gets praises for the scene and the realistic delivery of her lines.
In the drama, however, their characters have no direct interaction with each other. MaHa is simply cast as an extra in a historical drama and plays the role of a kisaeng (artistic women who used to entertain upper-class men through music and poetry) who flees the scene when Kwon Ryuk's character storms a pavilion where a party is being held. However, she gets offered a role similar to the webtoon opposite Kwon Ryuk later. It's unclear why the genre of the drama changed within the story, but regardless of that the characters' relationship still develops after acting together. 
Author's take on the differences?
As we mentioned before, webtoon author Park KyungRan is a big fan of the K-Drama herself! She has even admitted to watching Mnet's "KINGDOM: LEGENDARY WAR" in support of SF9's HwiYoung and Chani, as well as ATEEZ's JongHo, YunHo, San and SeongHwa. Here is some 'fan' art that she made of them. She explains who each actor from ATEEZ and SF9 is, and leaves a description of what makes them charming as members of SHAX and SPARKLING.
As she watches each episode, they inspire her to create new sketches and cartoons based on the new plot. For example, for the above sketch of the SHAX and SPARKLING members, she tweeted that she initially wanted to jot down some facts about the characters but ended up doing some doodles just for fun. The below sketch is her interpretation of one of the most nerve-wracking scenes in the drama when MaHa asks Kwon Ryuk to dance with her on a broadcast. This scene is not in the webtoon, but it highlights Kwon Ryuk's personality and how nonchalant he tries to appear even when that is not how he feels. You can follow her Twitter to keep track of her 'fan' art as the drama progresses.
These are only a few differences that you are likely to pick up on after reading the webtoon and watching the drama. Despite the differences, both storylines are entertaining and, if anything, you get to read alternatives to a really enjoyable plot. Do you have any more differences that you've noticed? 
If you would like to read about more K-Dramas that are different from their webtoons, check out this article.