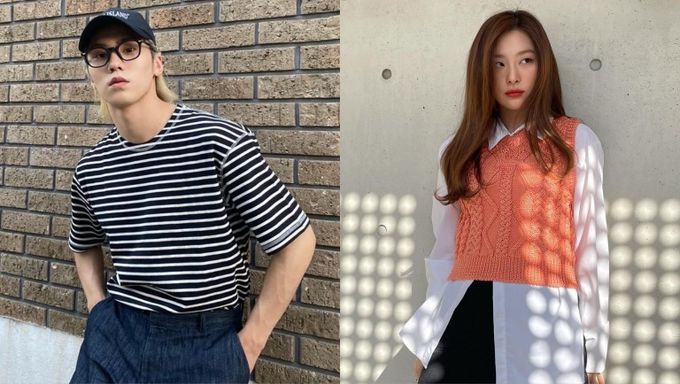 It is always adorable to see idols interacting with each other in variety shows, music shows, and award programs. After all, for most of them, these shows are the only times they get to meet and greet each other and it is on these very platforms that some long-lasting friendships are forged.
Have you ever seen two of your favourite idols interact with each other and thought that they look like they would be best friends? We're here to play matchmaker as we pair 10 idols who should be best friends. Don't forget to leave your own pairs in the comments section down below!
The hottest around K-Pop town, these kings would definitely bond over their passion for music, bodybuilding, keeping fit, and most importantly, their dorkiness. We wouldn't be ready for the visual explosion that these two would create if they really started hanging out together. Get ready for gym selfies and fan edits galore.
Q is an incredibly unique individual with a lovely personality. KeeHo too, has a big personality and is almost always the mood-maker. Every second around them is entertainment at its best. Q and KeeHo together would be a treat, to say the least. Not only do we want a collaboration musically but we definitely see a potential BFF situation.
The dancing machines of K-Pop, SeulGi and Rocky are not only powerhouses of talent but also filled to the brim with wit. A professional collaboration between them would quite literally, shake the industry.  In addition, their style game is eclectic! We can already imagine them photowalking, doing dance covers and joking around playfully if they were to be best friends.
If you've ever watched a "Biggest K-Pop Betrayals" video, you surely will have seen both these idols on it. V and JeongHan are determined, highly intelligent and driven individuals. However, that is not to say that they're not absolutely chaotic geniuses. This friendship would go down in history as iconic, without a doubt.
Jackson and Lucas have often expressed their desire to get close to each other, especially after knowing that they were almost neighbours in their childhood. Fortunately, they have had multiple chances to become friends over the years, most recently through variety show appearances. We hope they keep getting to know each other personally so that we finally get the BFF pair of our dreams.