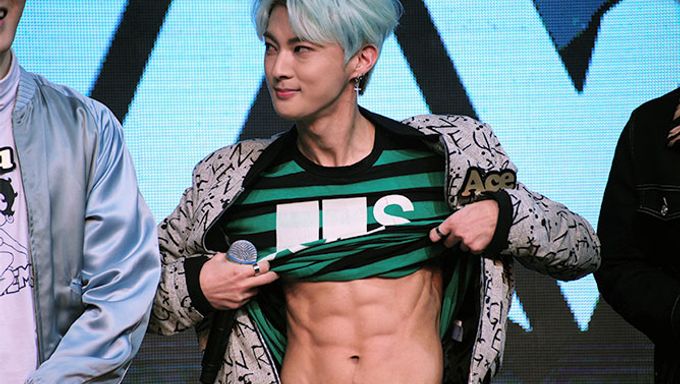 VAV is back better than ever to find their Venus. Get all the focus points of VAV's new "Venus" comeback!
Kpopmap was invited to celebrate the release of VAV's new single album, "Venus", at their comeback showcase. The showcase was held on February 17, 2017 at the Shinhan Fan Square Live Hall in Seoul. With the help of their new famous producer Ryan Jeon, the boys are ready to make another hit for their producer who's famous for hit tracks such as TaeYeon's "I", SHINee's "Lucifer" and "View", EXO's "Love Me Right" and more. Through new music, new stages, new concepts and new members, there were so many focal points in the boys' comeback review. We bring you everything you need to know about the boys' new album, "Venus" through the 6 things only found at VAV's "Venus" showcase.
Must Read : VAV Profile: K-Pop Group with New Members Search for Their 'Venus'
Let's get ready to celebrate the boys through a series of performances, interviews and photo time!
VAV's "Venus" Showcase
Brought to you by your friends at Kpopmap.
Must Read : Showcase )) VAV "VENUS" Photo Time & Performance Video
 1. MODEL WITH ME
To begin the showcase, the VAV boys entered the stage in a single file line and our eyes couldn't help but rise up a couple of levels. All seven members were model status as they stood like high skyscrapers on stage. The boys revealed that their average height exceed 180 cm! They were standing next to their MC, Jang DoYeon the comedian-model famous for her tall height, and we've never thought she could look so average in height!
2. DEBUT WITH ME
One of the biggest change for the boys' comeback was the three new faces in the member lineup. The original members Ace, BaRon, Jacob and St.Van welcomed Ayno, Lou and ZiU into their family for the new "Venus" album. Although the boys had not met each other for many years, the team chemistry showed no signs of awkwardness. Ace explained that the new members brought in such a strong and bright energy that they helped reenergize the original members. Ayno with his cutesy joking charms, Lou with his tall and handsome stature and ZiU with his long training period brought the group's synergy to a whole new level.
3. DANCE WITH ME
The night moved on to the long awaited performance of the boys' new title track, 'Dance With Me". It's difficult for (relatively) rookie groups to have such strong synchronization in their choreography, but VAV's kalgunmu was on point! Despite their height and their relatively short period of practicing together, the boys put on a stunning performance. If I had to point out another focus point? Ayno and ZiU's bright and fun energized expressions were definitely a sight to see!
4. ACE WITH ME
All you fan girls get your binoculars out! VAV's Ace has a special present for all of the fans out there, and it's none other than his sexy body. The self-appointed sexy member revealed that he's always set and ready to gift his breath taking abs for his fans anytime and anywhere. To prepare for the boys' new showcase, Ace was in the gym all last night toning up his body for the long awaited fan treat.
5. POINT WITH ME
To get to know the boys better, the VAV boys prepared a fun game of keyword pointers. With each keyword, the boys pointed to the member that best fit the adjective. Ace was voted the sexiest by baring his abs, Ayno was the cutest by serenading us with his aegyo, Jacob showed off his manliest appeals with one hand one leg pushups, Lou told us goodnight in the sweetest voice and eldest St. Van defeated their strongest makne ZiU in a strength face off. BaRon and ZiU acted their hearts out, BaRon was also voted to be the smartest, and Lou was also voted as the slowest due to his slow eating habits.
6. VAV WITH ME
To close out the night, the VAV boys promised out to their fans that they'll work hard during their "Venus" promotions to meet the expectations that comes with their many changes. They've introduced a new synergy with the three new members, they've changed concepts to bright and fun from dark and heavy, and they've now been blessed with the help of their new producer, Ryan Jeon. All the VAV fans can rejoice, because the VAV boys invites you to see more of them on their new official mobile app. You can watch the boys on a live feed, among other contents, all through the app that's available on both android and iOS. Congratulations to the VAV boys on their fantastic comeback! 
VAV (Ayno, Ace, Jacob, Baron, St. Van, Lou, Ziu) sends their love to all their fans on Kpopmap! Check out their sweet message to their Venus!
Must Read : Showcase )) VAV "VENUS" Press + Stage Photos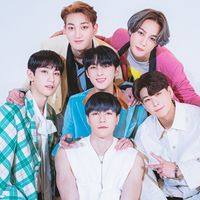 Became a fan of VAV
You can now view more their stories