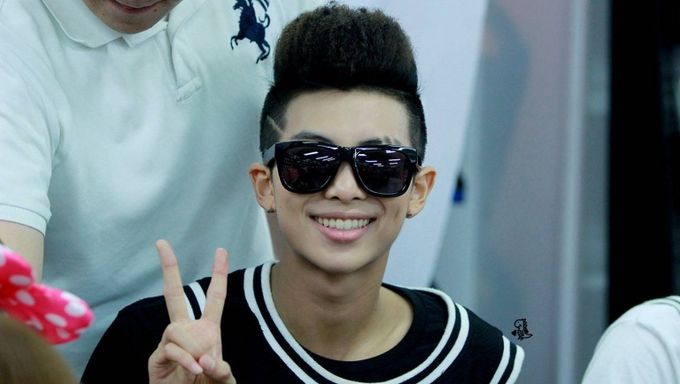 Visuals are an important part of a K-Pop idol's career and two things that can make or break someone's visuals are hair and makeup. Every comeback, K-Pop idols are given particular concepts that they have to pull off. This usually includes a full makeover. Hair is dyed a different colour, makeup is done a certain way and clothes adhere to the concept as closely as possible. However, these makeovers are not always a hit.
Here are 6 times K-Pop idols had to promote with hairstyles that even they probably didn't like.
GOT7's Mark Tuan has, on multiple, occasions, expressed his disapproval of this hairstyle and we can't say we were a huge fan of this one either. It looks like the result of a bunch of heat and we are certain that he needed some serious moisture treatment after this to bring it back to normal.
There's something inherently wrong with this hairstyle. It looks like two different stylists worked on it at different times of day without knowing what the other side would look like. Sana being the goddess she is, still pulled it off with confidence but we can't deny that we've definitely seen much better from the TWICE stylists.
3. Sandara Park
Dara has had some unbelievable hairstyles since her debut, to the point that it looked like YG was trying everything out with Dara without any judgement whatsoever. She pulled them off with grace regardless of how it made her feel. Dara herself said in an interview that the "palm tree" hair was one of her favourites but it made her cry on stage because of the headaches she would get after wearing it for prolonged periods of time.
Jackson strongly expressed his feelings for his hairstyle both at the time when he got it and long after that as well. Apparently, he had asked the stylist to cut off only an inch of his hair but the stylist only left an inch on his head. Misunderstanding or not, Jackson did not like it one bit but he still carried the hairstyle like the professional he is.
This Justin Timberlake-inspired hair was better left in the 90s. There's a time and place for hairstyles and this one was definitely not adhering to either of those. However, even though it is not the best, it still remains iconic nonetheless.
RM's debut hairstyle was as bold as it could get and that is understandable to a certain extent since one needs to make an impression. However, despite the mohawk, attention was focused on RM's incredible talent and skills. All the BTS members, including RM himself, often revisit the memories of their debut and they never give up the chance to bring up this hairstyle and have a good laugh about it, all in good fun.