6th GAON Chart K-Pop Music Awards 2016: Results & Winners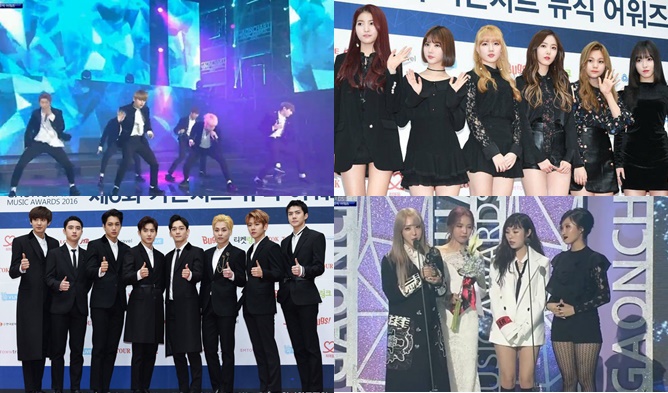 The final annual K-Pop awards ceremony has just ended, and the Kings and Queens of GAON Chart's K-Pop Music Awards of 2016 has finally been crowned!
On February 22, 2017, the world's most famous and impressive artists gathered to celebrate the crowning of 2016's hottest acts. Led by Lee Teuk and MAMAMOO's Solar, the Jamsil Stadium was packed with performances, awards and general celebrations for the closing of 2016.
Must Read : 6th GAON CHART K-Pop Music Awards 2016: Lineup
Let's take a look at which 2016 K-Pop acts took home the prestigious awards!
WINNERS OF THE 6TH GAON CHART K-POP MUSIC AWARDS 2016
Artists of the Year (Songs): GFriend (January), MAMAMOO (February), Jang BumJoon (March), TWICE (April), Urban Zakapa (May), SISTAR (June), Wonder Girls (July), BLACKPINK (August), Lim ChangJung (September), TWICE (October), BLACKPINK (November), BIGBANG (December)
Artists of the Year (Album): GOT7 (1st Quarter), EXO (2nd Quarter), EXO (3rd  Quarter), BTS (4th Quarter)
Rookie of the Year: NCT 127, BLACKPINK
Discovery of the Year: Dean (R&B), BewhY (Hip-hop), Bolbbalgan4 (Indie), Han DongGeun (Ballad)
Producer Award: Bang ShiHyuk (BTS)
Composer Award: Black Eyed Pilseung (TWICE "TT")
Lyricist Award: Jo YoonKyung (TaeYeon's "I")
World Hallyu Star Award: SHINee
Hot Performance Award: INFINITE, SEVENTEEN
Fan Vote Popularity Award: EXO, EXO's SeHun
Performer Award: Kim Ryung (Chorus), Lee SungYeol, Choi DaeWan (Rendition)
V LIVE Follower Award: BTS
Choreographer Award: Son SungDeuk (BTS)
Style Award: Choi HeeSun (TWICE)
K-Pop Contribution Award: Sechs Kies
Popular Singer Award: MC the Max