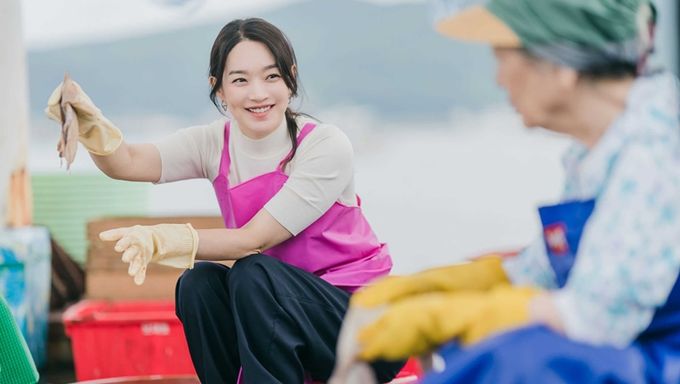 We all love the Seoul cityscape and hustle-bustle of the city life that K-Dramas often captures quite perfectly. But every once in a while, we feel the need to kick it back a notch and just have a calm and relaxing time. What's a better way than to watch some feel-good slice of life K-Dramas set in the picturesque countryside of Korea. 
So here are 7 best K-Dramas that will take you on a heartwarming ride with their slow placed, beautiful narratives and a peek into life outside of the cities.  
1. "Hometown Cha-Cha-Cha"
Year: 2021
Main Cast: Shin MinAh, Kim SeonHo, Lee SangYi
Summary: A aloof but warm-hearted Yoon HyeJin opens a dental clinic in the fictional seaside village Gongjin where she meets the charmingly peculiar jack of all trades Hong DooSik, also known as Chief Hong. As she settles in the village, she adjusts to the slow life of Gongjin and finds herself falling for Chief Hong.
Why you should watch it: A wholesome, healing, and simply beautiful series that will leave you with a stomach full of butterflies and a sudden urge to surf or take a beach tour. One of the best pandemic  K-Drama, it works as a perfect escape to the beautiful seaside. Also, the cast is just impeccable and has completely outdone themselves. 
Read more on the cast and summary here
2. "When the Camilia Blooms"
Year: 2019
Main Cast: Kang HaNeul ,Gong HyoJin, Kim JiSeok
Summary: Single-parent Dongbaek, the owner of Camellia Bar in a small fictional neighborhood of Ongsan finds herself opening her heart and ridding her prejudices when a sweet police officer YongSik confesses his love for her. But things become dangerous when she becomes the next murder target of a serial killer.
Why you should watch it: A mixture of romance and thriller coupled with a close-knit countryside community. The series also takes on love which is conventionally looked down upon in Korean society.
Read more about the cast and summary here.
3. "When The Weather Is Fine" 
Year: 2020
Main Cast: Seo KangJoon, Park MinYoung 
Summary: The story follows a cellist, Mok HaeWon, who after her unhappy life in Seoul, quits her job and moves back to BookHyun Village, in Gangwon Province. She reconnects with EunSeob, a high school classmate who now runs a bookstore in the village. The two find comfort in each other as they help each other with their personal wounds with love.
Why you should watch it: This drama has the feeling of a warm blanket and hot chocolate on a cold winter night. It is at a much slower pace and is quite mundane, so a patient watch of this relaxing show would take you on the snowy countryside tour. Beautifully shot, it is also aesthetically pleasing.
Read more about the cast and summary here
4. "Heaven's Garden"
Year: 2011
Main Cast: Yoo HoJeong, Kim SaeRon, Choi BoolAm, Hyun WooSung 
Summary: A fraught Jung JaeIn's life falls apart when her husband goes to jail. Left with no options, JaeIn, with her two daughters, moves to her hometown to live with her estranged father. 
Why you should watch it: A modern classic K-Drama that is about a small farming community living in the beautiful mountains outside Seoul in South Korea. The breathtaking landscapes and the simple life of the locals are a refreshing change. It also deals with developing and nurturing relationships as well as reconciliation. 
5. "Modern Farmer" 
Year: 2014
Main Cast: Lee HongGi, Park MinWoo, Lee SiEon, Kwak DongYeon, Lee HaNui
Summary:  The story follows members of the rock band Excellent Souls (ExSo) who decide to leave their life in Seoul and retreat to a small village and take up farming. The friends explore life, love, and hardships.
Why you should watch it: A light-hearted series if you're feeling low. It's a hilarious and healing drama that focuses on themes of following your dreams and the hardships you will have to overcome to achieve. The fun of the countryside is a joy to watch.

6. "Warm and Cozy"
Year: 2015
Main Cast: Kang SoRa, Yoo YeonSeok 
Summary: A workaholic Lee JungJoo, after a series of misadventures in the city, moves to Jeju Island to start a new life. There she meets an unambitious and carefree Baek GunWoo, chef and owner 'Warm and cozy', who coming from a wealthy family lives his life the way he wants. The two opposites collide and gradually fall in love.
Why you should watch it: Set in the beautiful Jeju Island, "Warm and Cozy" is a fun, slow, and soothing romantic comedy presented with scenic views of Jeju Island. 
7. "Do Do Sol Sol La La Sol"
Year: 2020
Main Cast: Go Ara, Lee JaeWook 
Summary: A musical romantic drama that tells the story of a riches-to-rags quirky pianist Goo RaRa who moves to a small town called Eunpo City after her family is ruined. She meets a mysterious yet warm-hearted Sun WooJun, who has his own secrets and pain. The two strike a friendship as WooJun helps RaRa get back on her feet and eventually fall in love. 
Why you should watch it: The series is another mix of genres and offers surprising twists. A pinch of everything from danger, drama, suspense, unexpected characters and events, and a lot of health crises. Apart from all of this the optimistic vibe of Goo RaRa and her journey as she finds her own way in the world after her cocoon of comfort is burst. Everything in a cute little town. So Bonus.
Read more about the cast and summary here