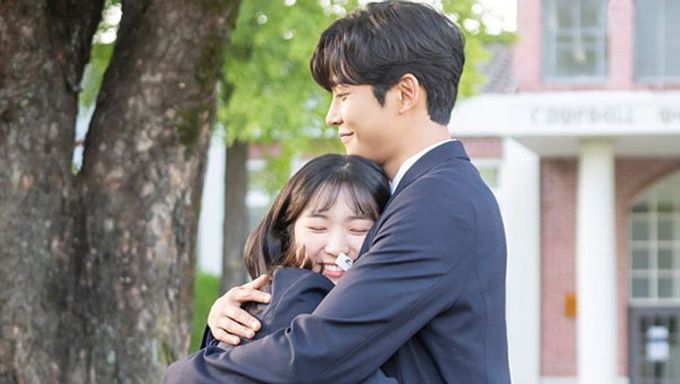 If you are still having a hard time to say goodbye to "Extraordinary You", you are not the only one.
For those of us who are struggling to move on on HaRu (SF9's RoWoon) & DanOh (Kim HyeYoon) -the sweet DanHaRu couple-, here is a list of the best 7 heart fluttering lines of HaRu.
HaRu is a lovely boy wih a kind heart who truly loves DanOh. There are many talks among viewers about whether HaRu is just an innocent puppy or a fox. According to RoWoon, HaRu is not a fox. He is "an innocent and bright character but as the episode progresses, as the feelings for DanOh gets bigger, he can be quite ferocious in order to protect his love for DanOh".
The sweet character made our heart beats and (also) broke it with numerous romantic lines. Kpopmap compiled 7 of them. Let us know in the comment what is your favorite and if we missed it.
Be aware of major spoilers -up to the last episode. 
1- "DanOh is not yours or the writer's"
When Baek Kyung (Lee JaeWook) was too -creepily- possessive and said "She[DanOh]'s mine. It's our fate from the beginning".
HaRu answered back: "Eun DanOh is not yours or the writer's. She's just Eun DanOh".
That was a cool line that made us cheer for HaRu 100 times more.
2- "Why are you so shy?"
DanOh had been avoiding HaRu all day because she was feeling shy about her feelings for him. HaRu understanding the situation asked her: "DanOh, all day long why are you so shy?" while holding her wrist.
It was a heart-fluttering scene ... but is HaRu really not a fox? That is hard to answer.
3- "Should I study?"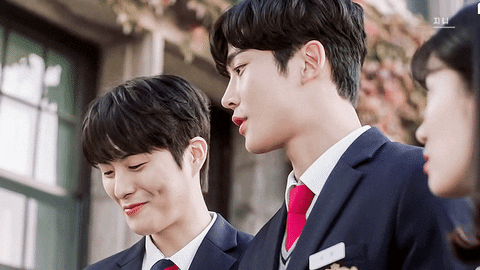 HaRu wanted to be a good boyfriend and did not hesitate to show his willingness to improve himself. He did not hide his feelings and was straightforward about it.
When Lee DoHwa (Jung GunJoo) arrived while HaRu and DanOh were by themselves, HaRu told him "I want to be just the two of us [DanOh & HaRu]".
Lee DoHwa said that he brought a romantic manga for him to learn how to win the hearts of girls and that he could study. HaRu looked at DanOh and said "Should I study?".
This line made us fall in love even more with him.
4- "Thinking about you"
DanOh: "What were you doing?"
HaRu: "Hmm ... thinking about you."
That was a cute and lovely answer.
5- "I am scared of losing you."
HaRu was scared that old story repeat in the new one and that DanOh had to die.
With the fear of losing her, he told her romantic and touching words: "Are you OK? ... I am scared you are hurt ... You could die if the surgery goes wrong ... in the world before this one, I saw our story ... I saw you die ... this story is repeating in this story, I can't ... I can't without you. I will change the story. We need to change. I will do everything to change it. I am scared of losing you. I am scared DanOh."
6- "Every moment of my life is meant for you"
In the scene where DanOh finally remembered HaRu and they had an emotional dialogue as HaRu knew he had few time left in this world.
HaRu: "It's okay if I get erased in the comic. ... Every moment of my life is meant for you. And even in my last scene, I'll remember you."
7- "You are my beginning and also my end"
This is the most heartbreaking scene of the drama, the parting of DanOh and HaRu.
Here are his last romantic words a few seconds before he disappeared: "This time, I am glad I could change your destiny. I'm sorry I can't be with you in the last scene. ... Today is my happiest day for me. Because you were my beginning and the end. Call my name DanOh."
Look forward to the Part. 2 of 5 Scenes That Make Us Fall In Love With SF9's RoWoon As HaRu In "Extraordinary You", it is coming soon.
Read More : 6 Beautiful Parallel Scenes Of SF9's RoWoon And Kim HyeYoon In "Extraordinary You"