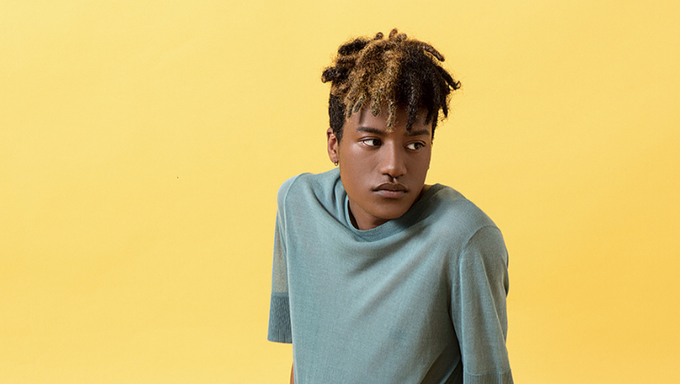 With the upcoming release of Netflix K-Drama "So Not Worth It" many netizens are celebrating the increasing diversity on Korean screens and in the Korean entertainment scene. The cast includes Park SeWan, Shin HyunSeung, GOT7's YoungJae, (G)-IDLE's Minnie, and the star of today's article Han HyunMin.
He is best known for being the first-ever Korean model of African descent to hit the runways of Seoul - but outside of that achievement, who is Han HyunMin?
Where it all began
HyunMin was born on May 19, 2001, to a Nigerian father and Korean mother and grew up in Itaewon, Seoul, with his 4 siblings. At first, he played baseball, but because of the cost that accompanies the sport, he quit and took up an interest in fashion and modeling. Although he was scammed a couple of times, he was eventually scouted to be a model through Instagram, at the age of 15. 
Korea's first black model
HyunMin signed with SF Models x Entertainment and started dominating almost every catwalk in Seoul. He debuted at 2016 Seoul Fashion Week and has since done numerous shows for big brands, becoming one of Korea's top models. 
One of the world's most influential teens
HyunMin was the only Korean to make the "TIME" list of influential teens in 2017. He achieved this brilliant milestone after only 20 months of being active as a model. Some of the other people who made the list include Brooklyn Beckham (David Beckham's son). HyunMin said that being on the list with a person as great as him felt like a dream and he was honored to be placed there. 
Host with the most
HyunMin was an MC on "M!Countdown" alongside AB6IX's Lee DaeHwi from April 2019 to February 2021, for a year and 10 months. This gig is what made him become known to the public who had no interest in models and brought him a lot of attention. Not only did he do a wonderful job hosting the show, but he built a close friendship with Lee DaeHwi based on them being the same age.
They even have this cute music video together where they do a dance cover to the legendary song 'Coming of Age Ceremony' sung by Park JiYoon.
Discrimination and stereotypes
Of course, his rise to success was not without some hardships. Growing up biracial in conservative Korea, HyunMin has faced his fair share of discrimination. He spoke about these issues on the talk show "Radio Star." He recalls being called names for having darker skin in kindergarten and how some of the parents would tell their kids not to play with him because of it. Another memorable incident was when he was hired for a car commercial but was expected to play a stereotypical role full of swag. HyunMin, despite hours of practice, couldn't get it right and as a result, was fired right away. It must've hurt at the time, but he tells the stories in a light-hearted tone and expresses hope that these kinds of situations won't happen in the future.
Bright and lovable personality
Despite anything else, HyunMin has a very approachable and lovable personality. It is clear in every interview that he does. HyunMin recorded this interview with the YouTuber, YO' HOMEGIRL, in which he answered some speed quiz questions. He answered every type of question, from his pet preference, whether he prefers chocolate or candy, whether he watches anime, to who his favorite Pokémon is. 
Budding acting career
HyunMin's first drama role was making a special appearance as an Ethiopian exchange fairy in the 2018 K-Drama "Mama Fairy and the Woodcutter," also known as "Tale of Gyeryong Fairy" starring Moon ChaeWon, Yoon HyunMin, Seo JiHoon, and former Gugudan member Kang MiNa.
Although it was a small role, he quickly secured his second role the following year in the hip hop slice-of-life drama "Hip Hop King," starring former INFINITE member Hoya (currently known as Lee HoWon), CROSS GENE's Shin, and APRIL's NaEun. He plays a high school student with big dreams and some insecurities about achieving them. He's not sure how to overcome the latter to achieve the former, but he wants to find love whilst doing so.
His upcoming drama "So Not Worth It" will be released on Netflix on Jun. 18 and is much anticipated for its multinational cast and hilarious teaser. HyunMin will be playing the role, under the same name, of a student who wants to avoid long commutes and live in the dorm. Netizens are highly anticipating seeing him in a drama that will have such high visibility.
HyunMin seems to be going nowhere but up, and it will be very exciting to see what career milestone he achieves next.