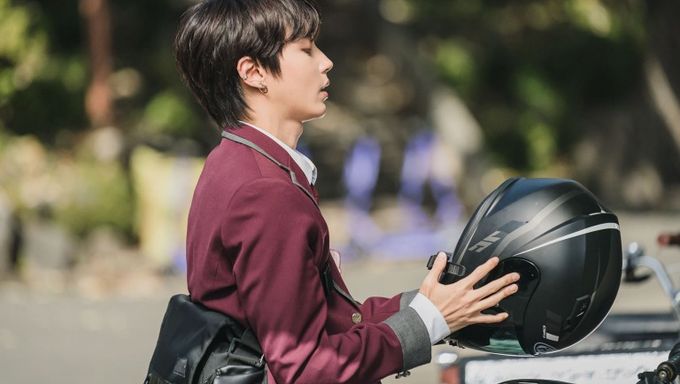 If there's one thing that can make any K-Drama fan's heart flutter, it has to be a motorbike scene. We're talking drifting through busy roads, tires making a smoke show while the rider looks like one himself. We can't help but rewind and rewatch as these actors effortlessly handle these big bikes.
Here are 7 Korean actors who look so good on bikes that we wouldn't be able to focus on the road if we were behind them!
GOT7's JinYoung engages in a car chase on a motorcycle in an episode on "The Devil Judge" that left viewers speechless. Not only does he look extremely dashing but also skillful! JinYoung shared during the official media showcase for "The Devil Judge" that since he did not know how to ride a motorcycle, he got a license for it especially for the drama.
Fans would agree that the moment Hwang InYoup entered the scene on his motorbike, looking finer than ever, was the moment millions of fans fell for him instantly (so did JuKyeong, physically at least). "True Beauty" is filled with scenes of Han SeoJun (Hwang InYoup's character) on a motorbike and as such, is definitely a sight for sore eyes.
Ji ChangWook on a motorbike is something you don't want to miss. Not only does he ride it in his dramas but he's also a passionate dirt biker in real life! As such, you'll never run out of instances to catch him biking in the wild. As a matter of fact, you can see him dirt biking on his recent episode of "I'm a Slacker" too!
Kim WooBin is definitely the OG bad boy that everyone fell in love with on "The Heirs". Even today, he remains one of the hottest actors ever, especially on a motorbike. Moreover, if he were to come to pick us up on his bike, we wouldn't even dream of saying no.
Viewers had their jaws on the floor when Ri JeongHyeok (played by Hyun Bin) from "Crash Landing On You", flew down in his motorbike to save his lady love! How someone could look that good with the wind all up in his face, is beyond us! Coupled with the slow-motion edit, it's a definite recipe for heart eyes.
Lee JaeWook's Baek Kyung from "Extraordinary You" might not have been the nicest character but he sure was incredibly attractive, especially when he whizzed past on his motorbike. At this point, the "bad boy on a motorbike" trope sure seems to be a second lead thing. Either way, all the more reason to gush on them.
"Memorist" gave us some incredible scenes of Yoo SeungHo being badass, which were all incredibly satisfying as he took out bad guys. However, whenever he got on his motorbike, it would not be an exaggeration to say that we couldn't see anything or anyone else but him.
Bonus!
It would a disservice to not include the amazing Kim GoEun, dominating the streets on her motorbike in "The King: Eternal Monarch". We couldn't help but fall for her and her character even more after this scene. After all, Kim GoEun is one of the most versatile and talented actors in the industry so it wasn't surprising but rather, impressive as always that she perfectly embodied her character with ease while looking this amazing.