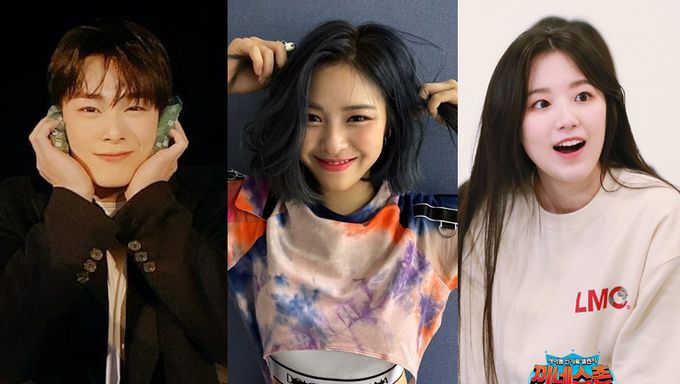 Do you know that there is one particular dance movement from ITZY's 'WANNABE' which is really popular? If you had watched the choreography, you might guess it correctly.
It is none other than RyuJin's opening of the song with her iconic shoulder dance.
It came to the attention of many K-Pop fans that there are also a lot of different idols who had tried to dance to her part! Kpopmap had listed down 7 idols and you have more to share, feel free to let us know below the comment!
#1 ASTRO's MoonBin
MoonBin was having an interactive session with AROHA as he was trying to learn the dance which they had suggested to him. Around 18:13, you can see how he mentioned that the shoulder movements were difficult.
#2 (G)I-DLE's ShuHua
Around 52:04 of the V-Live session which (G)I-DLE's maknae, ShuHua, had started, fans could see her tried to do the shoulder dance.
#3 WINNER's SeungHoon
The main dancer of WINNER, SeungHoon, tried to teach INNER CIRCLE, how to do the iconic shoulder movement around 31:56 of the V-Live session. In the end, he gave up and said that he could not do it right on the spot!
#4-6 TWICE's Sana, Momo and Mina
During the time when NaYeon was making a call to make a reservation, members Sana and Momo were seen dancing behind her! They did it without the song and ONCE still love how synchronized they were. You can check out the moment around 19:18.
During her birthday V-Live, Mina also did a short section of the iconic shoulder dance for 'WANNABE' around 43:29. She turned shy almost immediately after the attempt and once again, caused many ONCE to find her lovely and adorable.
#7 NCT's JaeHyun
Jaehyun did the shoulder + me me me dance in Wanna Be 😂 pic.twitter.com/ugnuaXBbmN

— 린 🌸 (@BOSS_JAEHYUN) March 29, 2020
As JaeHyun is the MC of SBS "Inkigayo", he was seen dancing to the shoulder while introducing the stage of 'WANNABE' for ITZY.
Read More : 5 K-Pop MVs Released In March 2020 That You Should Not Miss