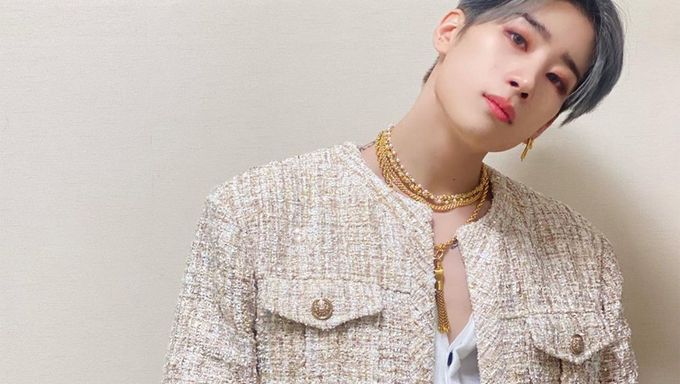 Did you notice that there are more and more K-Pop idols who are seen dressed in tweed jacket? While it is more common for female K-Pop idols to wear them, many male idols were also seen rocking in the fashion item.
Kpopmap had noticed 7 male idols with different types of tweed jacket.
Let's check it out below!
Note: This is not a ranking. 
1. AB6IX's DaeHwi
This tweed jacket of DaeHwi has definitely caught the eyes of many thanks to the red, white, pink and also black colours. Matching with a sharp and neatly ironed white shirt, the idol looked smart and handsome.
2. ASTRO's Cha EunWoo
Cha EunWoo is the icon of royalty and he knows how to look good in literally anything. He is as charming as a prince while wearing a handsome black tweed jacket with chains and buttons on it.
3. BTS's Suga
Dressed in an all white tweed jacket, the simple buttons had definitely stood out for Suga. He looks really smart and along with a short tie and white shirt.
4. MONSTA X's MinHyuk
MinHyuk's tweed jacket might look simple but with the addition of the brooch on the left side of his chest, it had gave him an extra something. The idol is capable of charming you even while standing!
5. SEVENTEEN's JeongHan
Speaking of angels, you might recognise one. That is none other than SEVENTEEN's JeongHan who looked like he just descended from the skies with his absolute visuals and beautiful tweed jacket.
6. SHINee's TaeMin
TaeMin's tweed jacket has a more commonly seen pattern but we still love it! He had also accessorized it with a simple brooch on the left side of his chest, adding a special touch to his overall look.
7. VICTON's SeungWoo
Have you imagined seeing SeungWoo in a pink and cream tone tweed jacket? The combination with gold accessories and white top had allowed him to shine even more during their recent comeback with 'What I Said' stage performance.