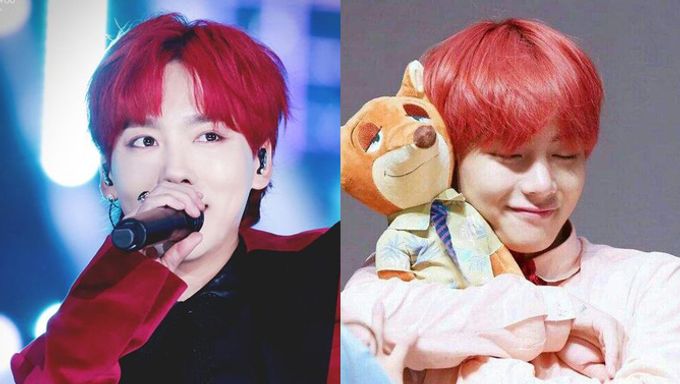 When someone dyes his or her hair red, the color will definitely cause them to stand out from the crowd. This applies to K-Pop idols as well!
Over the past few years, many fans have noticed that idols who have dyed their hair red, had not only a new edge but also a new look to their fans. As such, they have decided to call them "cherry head" as the color reminds them of a cherry.
Let's find out which of these male idols are.
#1 Wanna One's Park JiHoon
Also known as the wink guy, Park JiHoon caused even more fans to fall for him with his new and adorable looks when he dyed his hair red.
#2 BTS's JungKook
JungKook's red hair came as an instant death for many fans as they did not expect to see him in red after all these years of having dark colored hair. Many complimented on his new hair color.
#3 Wanna One's Ha SeongWoon
Ha SeongWoon is another idol who looks amazing with red hair. His clean and smooth skin was further accentuated with the bright red, allowing him to look fairer than before too.
#4 EXO's BaekHyun
How can we forget about this amazing vocal from EXO? According to many EXO fans, they were very much in love with BaekHyun when he came on stage with his red hair.
#5 NCT's TaeYong
Able to deliver a powerful and dynamic performance on stage, TaeYong is definitely one of the idols to watch out in the industry. When he had his hair dyed red, he managed to cause so many fans to go heads over heels for him.
#6 BTS's V 
Previously in an interview with Buzzfeed, V had said for himself that his favorite hair color which he had was red. Looking back, many fans agree that he suits the bright red color.
#7 WINNER's Jinu
Jinu is one of the idols who had a drastic change of image when he dyed his hair red. Not only did he amaze his fans once again but also gained attention from his wonderful visuals.
Are there any idols you think should be on the list?
Read More : Pyo YeJin Wows Netizens With Major Transformation After "What's Wrong With Secretary Kim?"