TEEN TOP's main vocalist is back to own the stage, not with his 5 other brothers, but just with he, him and himself alone!
To celebrate the release of his 2nd solo album, Niel hosted a showcase on January 16th, 2017 at the Ilchi Art Hall located in Seoul. During the extravagant show, he introduced us to the various focal points of his new promotional cycle, as well as entertaining episodes that showed off his signature personality. Niel performed his new title track, 'Love Affair', posed for photos and shared some of his inside stories as a soloist!
Must Read : MV )) Niel of TEEN TOP – Love Affair
After celebrating his new solo comeback together, we found the 7 points of his new "LOVE AFFAIR..." that you're going definitely not going want to miss!
Niel's "LOVE AFFAIR..." Showcase
Brought to you by your friends at Kpopmap.
1. SEXY SOFT AFFAIR
TEEN TOP's emotional vocalist is back better than ever with a concept that's sure to steal your hearts. To fully embrace the heartbreak behind the end of a relationship, our idol returned with a soft, sexy concept. Niel was dressed in a leather jacket pierced and wound with ribbon. In contrast to his fierce leather jacket, he wore a loose pink shirt and donned his hair in loose gray waves to show off the softer side of Niel's sexy aura. All in all, Niel made the perfect choice for his new album, wouldn't you agree?
2. LOVE AFFAIR
Niel opened up the showcase with a performance of his new title track, 'LOVE AFFAIR'. Niel was definitely on stage by himself, but for some odd reason the stage felt fuller than ever. He used the stage's space to his advantage as he literally flew back and forth on stage. He beautifully asked his love to not break his heart with such emotional vocals. It truly takes talent for one person to fill up a stage with his presence, but Niel succeeded with such ease. His breath taking performance will surely be one of the most memorable one for the Angels!
3. CONTINUOUS AFFAIR
Did you notice that ... after the album's title? Niel's got a sweet surprise for you! After this album's promotions and TEEN TOP's comeback in March, Niel will be returning once again to complete the love affair story. The "Love Affair..." contains tracks that plays out a story about a girlfriend leaving, and the heart broken boyfriend slowly accepting the fact that their love has come to an end. With the ending dots leaving us in anticipation for the next chapter, we'll just have to wait until the latter part of this year!
4. TEEN TOP AFFAIR
Considering that the TEEN TOP boys are celebrating their 7th year since debut, Niel was asked to comment about the K-Pop industry's 7 Year Curse. Will TEEN TOP split with the end of their contract or will they resign as they persevere together for more years to come? Niel was proud to say that the group is solely focusing on their upcoming comeback in March. After their promotions this year, they will then start deliberating about their expiring contracts. But don't you worry, Angels. Niel reassured us that the members are all looking forward to continuing on as the group TEEN TOP!
5. IDOL AFFAIR
This week of January has an overwhelming amount of soloist comebacks and debut. From Suzy, SeoHyun, Park Kyung and more, Niel was asked about who he felt was his rival. After carefully deliberating his stance, Niel commented how each of the soloists have their own style and signature music. He ultimately hopes that everyone will be able to celebrate their albums together with their fans. But we couldn't end there, we had to know his rival! Niel announced that rather than a rival, he was most captivated by the return of his super senior, Rain. He commented how Rain's undying innovative dancing and charisma takes him in awe and hopes to be able to become a soloist like his role model, Rain.
6. SKIN SHIP AFFAIR
For those of you who've seen Niel's new music video, you may have been pleasantly surprised to see some intense skin ship between our idol and the female lead. When asked about any funny episodes that happened during their filming, Niel began with a shy smile that literally melted our hearts. He recalled that the music video director already knew of his lacking acting skills, so any dramatic scenes were edited out. However, when he was given a test run with the scenes, apparently the director believed him to perform much better than before, because the sexy scenes were back on track! He said he was taken aback by the risque outfits of the model, but performed as well as he could with professionalism in mind.
7. PROMISED AFFAIR
We can't forget to ask about any 1st place promises! Niel promises to fulfill his promotional cycles as successful as he can. With his new concept focusing very much on his dance performances and live vocals, he'll have to focus his all in maintaining his health during the cold winter. If he successfully lands 1st place on a music show, Niel promises to treat his fans to a nice hot cup of coffee. As a special extra gift, he promises to invite his older brother to come out and spend time with his fans too! Best of wishes to the TEEN TOP vocalist, Niel!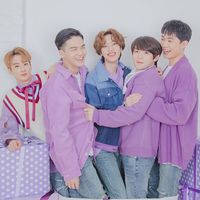 Became a fan of TEEN TOP
You can now view more their stories