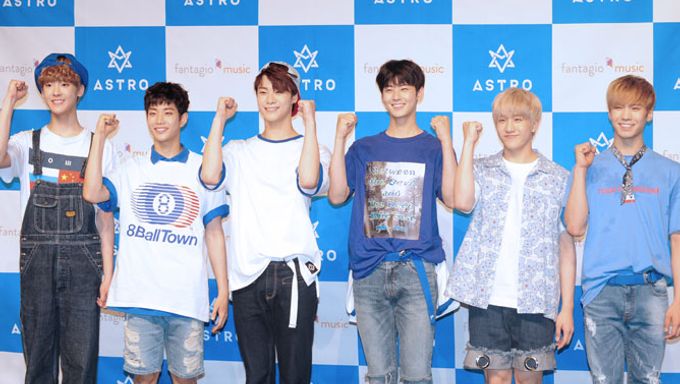 Kpopmap was invited to ASTRO's "Summer Vibes" Showcase for their 2nd mini-album, and we bring you the 7 things only found at a showcase hosted by the ASTRO boys!
ASTRO is back for a summer festival with their 2nd mini-album titled, "Summer Vibes" and their title track, "Breathless". The boys held their comeback showcase at the IlChi Art Hall located at the center of Seoul. We know how much you wished you could attend, so we bring the ASTRO boys a little closer to AROHAs through a review of the entire showcase! Many were looking forward to our live showcase feeds, but we were unable to bring you live and up close due to filming restrictions. However! We've collected the entire "Summer Vibes" showcase in an easy to read review!
Must Read : MV )) ASTRO – "Breathless"
The showcase was a successful summer launch for the ASTRO boys, who have debuted only just a few months ago! Reporters and photographers from all over the news industry came to cover the exciting new comeback of the Fantagio boys. ASTRO pre-released their new music video for the press, performed 2 songs and had an in depth interview session. The boys had performed their title track 'Breathless' with that fun under the sun brightness, as well as the track "Fireworks"!
By winning over our complete and undivided attention all throughout the show, we were able to bring you the 7 unique aspects that can only be seen at a showcase hosted by the ASTRO boys!
ASTRO's "Summer Vibes" Showcase
Brought to you by your friends at Kpopmap
1. LOVE VIBES
ASTRO's showcase started off on a note full of love from family like friends. The entrance to the showcase was lined with flowers to celebrate their comeback. The flower decorations were presented from a numerous friends and co-workers. One flower especially caught our eyes. SNSD's very own sexy goddess, YuRi, who appears on "Laws of the Jungle" with Cha EunWoo had sent a sweet flower to celebrate ASTRO's summer comeback!
2. SUMMER BOYFRIEND VIBES
The ASTRO boys are seriously crush worthy. Their showcase fashion was the perfect style of outfits that we'd want to dress our boyfriends in for a sweet summer date. Each member was dressed in casual summer outing with differentiating apparels that successfully accentuated their individual characteristics. If only ASTRO were our actual boyfriends!
3.  POWERFUL VIBES
The boys may appear dandy and youthful, but the ASTRO boys have some powerful moves! During their performances for both songs, the boys showed an unending amount of energy. Their unique choreography was perfectly executed in KalGunMoo style, as the boys jumped and hit every angle right on beat with so much power. Not only did they master powerful dance moves, but every member at every moment had their expression controls on point! You'd think that with so much jumping and complicated moves these boys will be gritting their teeth, but nope! The boys were all bright smiles and adorable expressions all throughout their routines. We honestly would have thought that the dance wasn't a hard routine if we didn't hear the heavy breathings at the end. Even though it was difficult and tiring, the boys didn't look tired at all and we could truly tell that they sincerely loved being on stage.
4. GROWING VIBES
We hear of jealousy between some K-Pop members, and ASTRO was no exception. The only thing was that the only jealousy going around between the member was between Rocky, JinJin and SanHa. SanHa had been shorter than the former two during their trainee days, but now SanHa is a whole head taller than JinJin! Rocky and JinJin playfully sneered at SanHa for his unending growth and commanded that he stop growing! How adorable are these guys?
5. IMPROVING VIBES
The ASTRO boys have received a hand full of nicknames ever since their debut. The names range from "Soda-dol" to "Happy Virus-dol", but the name that the boys actually favor is "Improving-dol" (Improving + Idol). The boys pre-debuted with a web drama and it's only been about 4 months since their debut. Ever since the beginning, the boys have been deemed the "Improving-dols" for their impressive growth as artists and celebrities. With only 2 months since their last promotions, the ASTRO boys showed just how fitting that nickname is for them. The boys have expressed that they love the fact that their fans can see their growth potential and will continue to train hard to show more impressive sides to themselves.
6. SUMMER VIBES
We're not sure if it was just because their concept was summer-like, but everything about the showcase reminded us about the happy memories that we make during the hottest season of the year. The interview talk began with MoonBin talking about how I.O.I's YooJeong owes them some Baskin Robbins' Ice Cream (it's their favorite kind of ice cream, AROHAs -wink wink-). JinJin promised to perform their title track wearing swimsuits if they win 1st place. But the most refreshing part of the showcase was when Rocky walked up to show us his six-pack abs! MoonBin commented that Rocky wasn't named Rocky for no reason, and he sure was right! Rocky's packing some serious muscle with his gorgeous bod!
7. FAMILY VIBES
We can't forget to talk about the Fantagio family! ASTRO's hoobae sister, YooJeong of I.O.I had featured in their new MV by showcasing her adorable personality. The cutie pie took the Fantagio family love even farther by appearing as a guest for their showcase! YooJeong came out on stage as a guest and talked about all the fun she had while filming the MV with the boys. She chattered on about how she enjoyed the beach, the camping, and the unique concept themes that made it feel as if she were at an MT. All the while she was talking, the ASTRO boys fondly looked on at YooJeong with so much love and appreciation for their younger/older sister.
You've just witnessed the 7 unique things you can only find at an ASTRO showcase.
Make sure to stay tuned for our next showcase experience!
Follow us on Twitter and on Facebook for updates!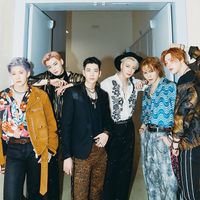 Became a fan of ASTRO
You can now view more their stories