7 Times K-Pop Idols Melted Us With Romantic Interactions at Fan Meetings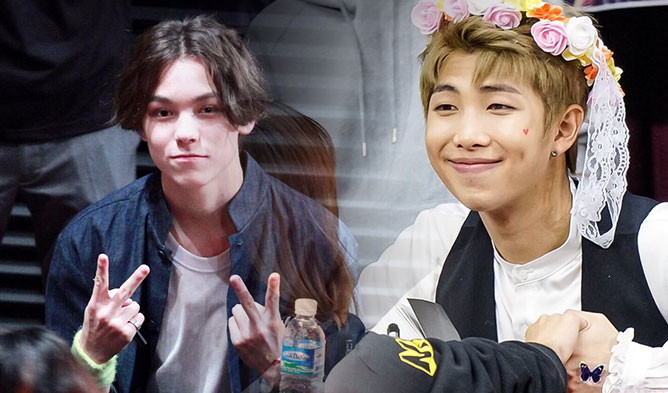 K-Pop stars aren't just skilled artists or variety personalities – they're skilled romanticists! What were some of the most heart melting fan meeting interactions?
Fans go to fan meetings for many reasons. One, they want to meet their biases up close and personal. Two, they want to receive a personally signed good directly from their favorite groups. But for some of the lucky few – they get to experience some of the most romantic conversations and interactions with their celebrities.
Must Read : Top 3 Idols Who Are Famous for Being Great to Fans
Here are some of the most romantic interactions that were recently recorded by die hard fans at fan meetings.
1. BTS's Rap Monster
Fan: Oppa I blah blah blah (talking quickly)

RM: …. (no response)

RM rested his chin on his hands and stared at the fan. The confused and embarrassed fan also stopped talking.

RM: You have such pretty eyes.
2. INFINITE's DongWoo
DongWoo was sitting next to SungYeol. A fan was stammering while talking to SungYeol.

SungYeol: Hey, you should change your name to Kim Dudeumie (meaning stammering).

When the fan moved on to DongWoo.

DongWoo: Hey Dudeumie. 🙂
3. INFINITE's SungGyu
A fan gave him a Hello Kitty ring.

SungGyu: (coolly) It's cheap. I guess I like it.

But he kept it on for the whole fan meeting. 
4. MAMAMOO's HwaSa
To a fan who asks HwaSa to hit her

HwaSa: I'm sincerely going to hit you!

Fan: Ok~ (gets ready to be hit)

HwaSa: Sincerely… (holds the fan's hand) muah!

Fan: Omg…

HwaSa: (kisses the fan's hand and smiles so sweetly at the fan
5. SEVENTEEN's Vernon
A fan notices Vernon has a list of girls' names on his hand.

Fan: What's that?

Vernon: It's to remember our fans' names.

In order to remember each of the fans, he wrote their names on his hand!
6. VIXX's Ken
Fan: The buses stopped so I have to sleep at a sauna ㅠㅠ

Ken: Saunas are dangerous~ Don't do it.

Fan: Then I want to sleep at your dorm!!

Ken: Our dorm is even more dangerous. 😉
7. BLOCK B's Zico
Fan: I belong to Oppa! Oppa belongs to who…?

Zico: (silently points to the pile of gifts from fans)

Fan: ???

Zico: Since you're mine, you should be over there.