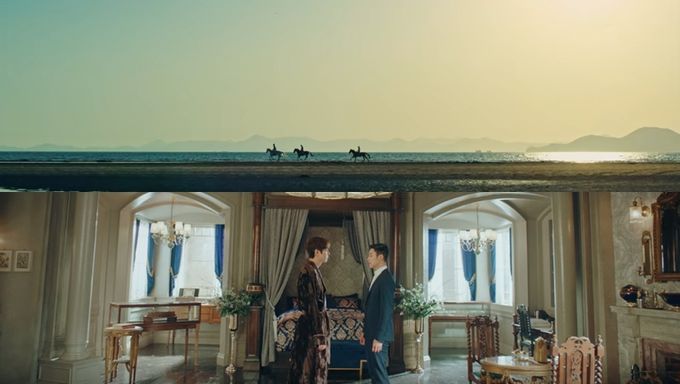 Have you tuned in the new popular drama "The King: Eternal Monarch"? It is available on Netflix. Lee MinHo, Kim GoEun, and Woo DoHwan are the lead actors of this fantasy action romance. It depicts the cooperation between two parallel worlds (Korean Empire and South Korea) to close the door opened by dark forces between these two worlds.
From the two first episodes, the drama has caught our attention for various reasons but especially because of its beautiful scenes. They are eye candy, esthetic, and cinematographic with splendid sets and locations. The production team seems to have spent an important part of their budget on their pretty sets, costumes, and props. They designed a whole outfit for the emperor acted by Lee MinHo along with logo, money, palace, and more for the parallel world.
Here are our favorite 8 scenes and sets of the first two episodes in no particular order. The details of the scenes are thrilling, make sure to have the drama in your watchlist if the plot interest you.
Be aware of light spoilers. 
1- Cute bromance - Eye candy scene
Lee MinHo: "Oh, my gosh! You nearly gave a heart attack! This is treason."
Woo DoHwan: "You should hurry. You might be late."
Lee MinHo & Woo DoHwan's bromance has already numerous fans and many love their eye candy scenes.
2- Handsome horse riding - Magnificent scene
Lee MinHo is seen riding his beautiful horse named Maximus for several scenes. They all looked amazing in their different vibes. Woo DoHwan was also briefly seen riding a horse.
3- First encounter in Gwanghwamun Square - 'Romantic' scene
The scene in Gwanghwamun Square was especially memorable because it was comical and yet somehow romantic (looking at their potential romance). The beautiful lights of the surrounding buildings and the water mirroring them were a nice shot.
4- Children promise- Touching scene
"From now on, you're the Unbreakable Sword". Lee MinHo and Woo DoHwan as kids were cute and touching. The drama does not forget to warm viewers' heart with emotional moments.
5- Emperor's bedroom in the palace - Beautiful props scene
Lee MinHo is an emperor and his bedroom was beautifully set as you can see in these 2 scenes. It is luxurious, noble, and neat. The court lady (Kim YoungOk) also makes the drama more entertaining to watch.
6- Assassination - Thrilling scene
The first scene of the drama was noticeable with the assassination of the king in a perfectly filmed scene.
7- Crossing the time- Beautiful cinematography
Numerous viewers of the drama noticed the beautiful cinematography of the drama such as this scene at the salt farm showing that years had passed by.
8- Secluded temple - Beautiful location
It is always nice to see new filming locations in Korea and this one had already caught our attention: a beautiful secluded temple. The filming location is Saseongam Hermitage in Mt. Osan, Gurye
Read More : "The King: Eternal Monarch" (2020 Drama): Cast & Summary