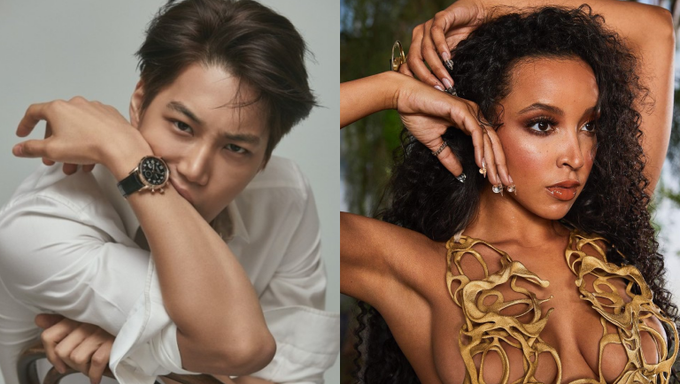 Each day, K-Pop songs and artists are becoming even more recognized and appreciated globally. With many acts like BTS, EXO, SuperM, MONSTA X, GOT7, NCT, SEVENTEEN, and BLACKPINK successfully breaking into the western markets and many more K-Pop idols like ATEEZ, Stray Kids, and TXT closely following suit, many foreign artists are now seeking to work with more K-Pop idols due to the remarkable talents and creativity and their rapidly increasing popularity. This interest has spawned hit collaborations like BTS x Jason Derulo 'Savage Love', BLACKPINK x Selena Gomez 'Candy',  MONSTA X x French Montana 'Who Do You Love', and ChungHa x  R3hab 'Dream of You' to name a few. 
These collaborations have left fans excited about the possibility of some of their favorite idols x western artists collaborating and we can't help but join in that parade. Here are some of the collaborations we need to happen and will definitely be a hit. 
1. BTS x Ariana Grande
Now that both acts are signed under the same label, fans can expect that their dream collaboration might be 70% close to happening. Both worldwide stars are known for their incredible musical talents and this "dream collab" as many call it will definitely be a chart-topper.
2. WEi x Jason Derulo
There's something about 'Waitin' track from their latest album; "IDENTITY: Action" that just feels like it was written with Jason Derulo's sound in mind and that makes us feel like this collaboration will be a massive hit. Jason Derulo has previously worked with BTS in the hit single 'Savage love' and NCT 127 and EXO's Lay for the Michael Jackson-inspired single 'Shut Up and Dance'.
HwaSa has previously collaborated with Dua Lipa for the remix of her hit pop song 'Physical' and that even further showed her vocal talents. Miley and HwaSa seem to have similar singing tones and styles and a collab with them showcasing their vocal range will be absolutely pleasing to listen to.
4. CL x Doja Cat
We believe there are similarities between the rap styles of these 2 acts. Both have a mix of hip hop, reggae, and pop, a blend they have been able to perfectly mix together to produce hit songs, and collaboration by both artists will definitely be a hit.
5. MONSTA X x  Bruno Mars
This collaboration doesn't seem far-fetched especially as the K-Pop group wowed fans when they released a beautiful rendition of Bruno Mars' "Versace on the Floor" track which proved that they have the artistic and musical skills to handle a track with him. With JooHoney and I.M coming in with the powerful and sultry rap, Bruno Mars, MinHyuk, and KiHyun feeding off each other's harmonies and range. We are quite sure that this pairing will leave fans wanting more.
6. BLACKPINK x Iggy Azalea
BLACKPINK has a nice record of collaborations with western artists and this collaboration will be an additional hit to the discography of bops. A back and forth flow with Iggy Azalea, Lisa, and Jennie plus the sensual and harmonious vocals of Rosé and JiSoo is definitely going to be a pop hit. A perfect song for the summer.
Fans were excited when Tinashe mentioned she would be interested in a collaboration with the EXO member during a #TinashexKai streaming party. While we can expect a very sensual and pleasing audio track from these exceptional singers, we are also guaranteed a jaw-dropping music video. Both acts are widely recognized for their dance skills and a collab with them is definitely going to keep us at the edge of our seats.
There is almost something similar about both artist's music styles. Their rap styles are modern and urban and with both acts often exploring their singing skills and having a rich and deep singing tone, this collab will not be something out of their capabilities. 
Did we capture any of your dream collaborations on this list? Which foreign artist x K-Pop idol do you want to collab? Let us know in the comment section. 
Which of these collaborations would you like to see happen?
※You can vote multiple times without sign in.
Jackson Wang x Ty Dolla Sign