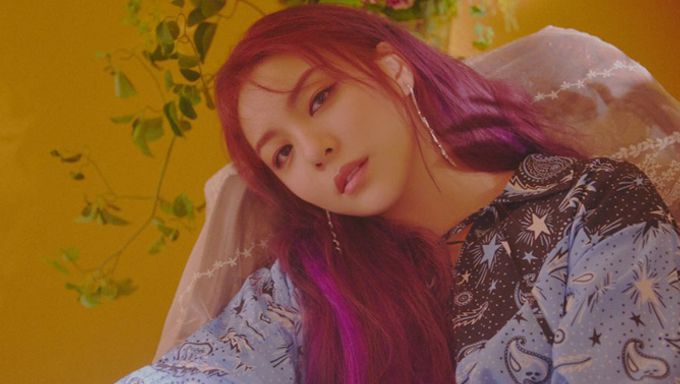 The K-Pop scene is getting more and more diverse and it seemed that many people from all over the world are interested in being part of the K-Pop industry. Just as how many companies are holding auditions worldwide, we have seen many idols from other countries and some also debuted in Korea as a solo artist.
In this series, we will be taking a closer look at 8 Korean American solo artists that have successfully debuted as a solo artist! Thanks to their strong and powerful presence, many music lovers enjoy how they bring an unique addition to the K-Pop industry.
#1 Eric Nam
One of the first few Korean American artists on top of your head that you would first think of would most probably be Eric Nam!
He has successfully made his name known through MBC "Star Audition: Birth of a Great Star 2" that allowed him to kick start his solo music career. Since then, many international K-Pop fans began to know his name as he was the host for Arirang TV "After School Club". As he is proficient in English, Korean and even Spanish, fans love how they are able to communicate with him easily.
Needless to say, many Koreans also enjoy seeing him interview Hollywood actors and actresses such as Robert Downey Junior, Emma Stone, Benedict Cumberbatch, and so on.
#2 Ailee
Ailee was first signed with an independent label in the U.S. before passing an audition under YMC Entertainment. She then moved to Korea to advance into her music career.
She stood out the moment her debut track 'Heaven' was released thanks to her powerful and strong vocal skills. Later on, some of her songs such as 'I'll Show You', 'U&I', and so on topped music charts.
For those K-Drama lovers, you may also know that she had sang the OST for tvN 'Goblin' called 'I Will Go to You Like the First Snow'. The OST received a 'Perfect All Kill' on various music streaming sites when it was released and also topped KBS "Music Bank" for 20 weeks straight.
Just a few days ago, Ailee had came back with her new album "butterFLY" with title track 'Room Shaker'.
#3 Tiffany Young
No K-Pop fans would not be able to recognize who Tiffany is as she debuted as a member of Girls' Generation back in 2007. Fans knew that along with Jessica and Sunny, three of them were born in the U.S. before joining SM Entertainment.
Tiffany is also recognized for her vocal skills on numerous occasions. While still active as a member of Girls' Generation, she was noted to be the second member to release a solo album "I Just Wanna Dance".
After the end of her contract with SM Entertainment, Tiffany had decided to head back to the U.S. and debuted as a solo singer. She had since released singles such as 'Over My Skin' and 'Lips On Lips'. Currently, she is also preparing for her North American Tour "Magnetic Moon".
#4 Kim Samuel
If you had watched Mnet "Produce 101" Season 2, you would definitely recognise this young solo artist. Samuel was born in Los Angeles and came to Korea at a young age to pursue his dream.
Despite not making into the final debuting group, Kim Samuel debuted as a solo artist a while after the survival show ended. His debut album "Sixteen" was released and his second album "Eye Candy" was also put out 3 months later.
#5 John Park
Some may or may not have heard of John Park but we got you all covered!
John Park first made his appearance on "American Idol" Season 9 in the U.S. and was also a semi finalist of the show. Later on, he entered "Superstar K2" in Korea and emerged as the runner up. After that, he was signed to a label in Korea and made his debut as a solo artist.
Many Koreans recognized him as he had also appeared on many variety shows such as SBS "Running Man", MBC "King of Mask Singer" and so on.
His name was also brought up recently as some netizens felt that Mnet "Produce X 101" trainee, Kim HyunBin and him look rather similar.
#6 Jay Park
Another iconic Korean American artist is none other than Jay Park.
He first debuted as the leader of 2PM and after his departure from 2PM, he had headed back to Seattle for a while due to the issues back then. After which, he started making his own music and returned back to Korea after signing an exclusive contract with SidusHQ.
Few years later, he founded hip hop label AOMG and became one of the most successful solo artists. Jay Park is also known for his dancing, rapping, song producing skills and so on.
A few of his hit tracks include 'Joah', 'Mommae', 'All I Wanna Do' and many more.
#7 Jessi 
We cannot forget about Jessi as she is known by many as the 'unnie' in the K-Pop industry.
Jessi gained her limelight after appearing on Mnet "Unpretty Rapstar", displaying her swag and rapping skills. Since then, she had also gained the girl crush image, earning many female fans.
Many also love how straight forward she was when she had appeared on variety shows such as KBS "Happy Together" and "Sister's Slamdunk".
Jessi had also released singles such as 'Gucci' and 'Down' that had received many love from her fans.
#8 Kevin Oh
Kevin Oh might be one of the latest addition to this list as not many have heard of him.
He was originally from the U.S. and first made his appearance when he participated in "Superstar K7". He emerged as the winner of the season and began his career as a solo singer.
His debut album "Stardust" was released and since then have also participated in various drama OST such as "Clean With Passion For Now".
Read More : 5 Female K-Pop Idols Born In 1996 With Goddess Visuals Chosen By Korean Media