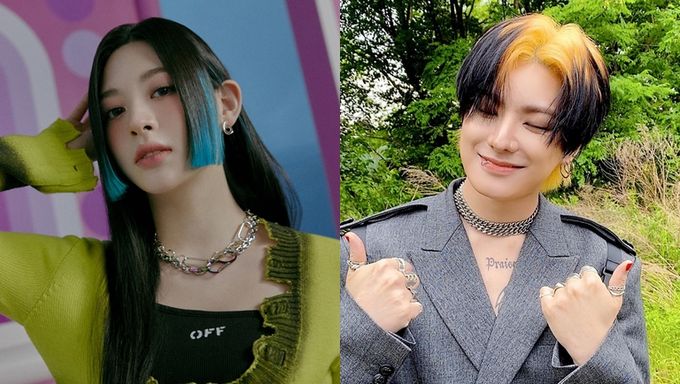 K-Pop idols are daring and adventurous when it comes to experimenting with different hairstyles and hair colours. At first sight, some people may find it hard to accept it but after a while, they actually look good and pull off the unique image they have.
Kpopmap noticed how there are 8 K-Pop idols who have impressed many with their interesting way of dying their hair.
Let's check out who they are now!
For ITZY's impending comeback with "GUESS WHO", RyuJin had caused many to look twice with her interesting hair dye.
Some people thought that it was a hairband but she had actually dyed her hair with 2 black stripes.
'Mayday mayday!' Someone please save us from how cool and unique HanSe looked with this hairstyle and colour!
Instead of going for the usual two-tone colour at the ends, HanSe had bleached the hair near his scalp, leaving the middle section of his hair black.
HongJoong is a leopard boy and we can tell from his love for the animal!
During ATEEZ's comeback with 'Fireworks (I'm The One)', HongJoong showed off his unique hairstyle with leopard-prints hair.
SeEun had caught the eyes of many when STAYC had made a comeback with "STAYDOM"!
She had cut the front pair of her hair and bleached them before overlaying it with various bright colours.
5. SHINee's Key
When SHINee was promoting 'Good Evening' in 2018, Key caused heads to turn thanks to his hair. We have seen many rainbow hair by various K-Pop idols but Key's is short and bright!
6. Lee YoungJi
Speaking of rainbow hair, winner of Mnet "High School Rapper" Season 3, Lee YoungJi pulled off a rainbow fringe in a rather creative manner. While many had thought that it was a filter, she had revealed that she had them dyed!
When NaKyung had appeared with these bold hair colours, many were amazed by how amazing she had pulled it off.
Half of her hair was grey and the other half was pink!
We can't miss out on the iconic hair of G-Dragon during 'Fantastic Baby'! It is long on one side and dyed with a bright colour.
Many were impressed by how peculiar and unique the hairstyle was. Perhaps it is also because of the fact that he is G-Dragon, he pulled off this hairstyle easily.