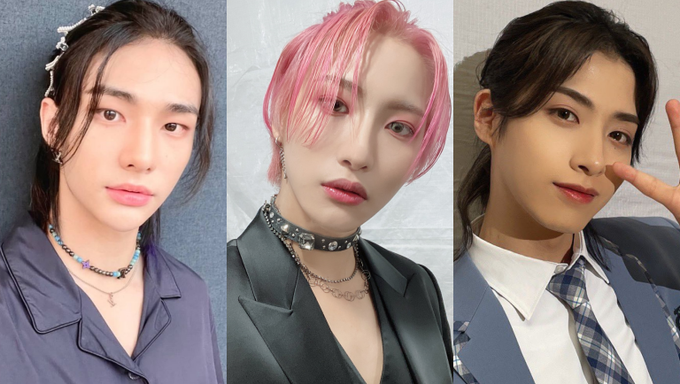 This hairstyle might not be for everyone but everyone on this list makes it look effortless and attractive.
K-Pop idols are widely known for their styles, setting and embodying fashion trends, and constantly looking refreshing and exciting. A key point of their style has been their hair and with a variety of looks and hairstyles to try, the ponytail has been a favorite for many viewers and fans alike. 
Let's be honest, not everyone can actually pull off this hairstyle. As aesthetically pleasing as it looks, it takes a certain level of visual, aura, and charm to be able to carry this look stylishly. That being said here are some of our favorite idols who look amazing with this hairstyle. 
While the EXO member is one of the most fashionable and stylish idols in K-Pop ever, never afraid to present something different to fans, we rarely get to see him give us a ponytail look but when he does, we can't help but revel at the moment. That mini ponytail will stay in our dreams for a very long time.
The idol plus that outfit plus the ponytail is definitely a straight deadly shot to the hearts of fans. Long-haired HwiYoung is a different kind of mood, he is cute, sexy, charming, cuddly, and powerful. This hairstyle is one of our absolute favorites, it enhances his captivating visuals and shows off his cute and masculine side. We honestly hope to see him style his hair like this soon, he has the perfect face and confidence to pull off this hairstyle.  
Just like RoWoon no one will be able to resist the urge to play with that cute bun.  
We believe in SeongHwa's ponytail supremacy.
While ATEEZ has been making waves with their hit mini-album "Fever: Part 3" another thing that has been that talk of the town is SeongHwa's Ponytail. The singer and performer found a new way to strike the hearts of fans and we can't help but bow in reverence to his stunning visuals. He is a pretty rocker and like ATINYs, we are in love with this look and hope he keeps this hairstyle for a long time. 
The Stray Kids member should definitely be in the K-Pop hairstyle Hall of fame (if that's a thing) having shocked fans and viewers alike with several ponytail styles over the last year. He definitely knows how to style his hair, adding various accessories to make it even more stunning and attractive. 
Fierce. That's the simple word we can use to describe the NCT member when he rocks this hairstyle. He turned up to an event looking like a bonafide Rockstar, sending waves of excitement amongst photographers and fans.
Jay B definitely knows he has the visuals to pull off any hairstyle and the ponytail is one of them. Every time he styles his hair like this, he either looks like a cute charming bunny or exudes a powerful aura like a Viking warrior set to slay and take hearts.
Cute and adorable. Every time JiMin decides to tie up his long and sleek hair fans get what feels like a rush of excitement, a serotonin boost if you will, like the sweet and smooth taste of 'Butter' mixed with freshly baked bread.
One idol who has consistently styled his hair in a ponytail is Xion and honestly, he looks so good and cute in this hairstyle. His boyish and adorable charm just seeps through effortlessly with this hairstyle. Like a little prince straight off the books of a Disney fairy tale, he exudes a very soothing and relaxing charm, which might just be an extension of his personality.