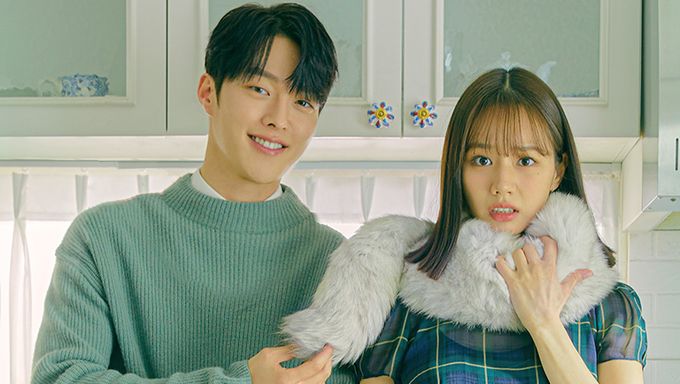 There are just a few days left until the start of the fantasy romantic comedy "My Roommate Is A Gumiho" starting on May 26.
"My Roommate Is A Gumiho" is about a 999-year-old gumiho (Korean nine-tailed fox) and a cool female university student born in 1999 who got to live together because she swallowed the gumiho's fox orb by mistake. Jang KiYong is acting as the gumiho and HyeRi as the university student. Kang HanNa, Kim DoWan, and Bae InHyuk are also cast.
The drama is highly awaited and there is no wonder why! Here is why you shouldn't miss the drama and have it on your drama watchlist.
1. Jang KiYong & HyeRi chemistry
Fans have been talking about the chemistry of the leads even before the start of the drama because of this photoshoot for "1st Look". Netizens have flooded the comments on how Jang KiYong and HyeRi looked good together and how they feel the chemistry between these two.
We can't wait to see the couple on screen.
2. Hilarious comedy
Looking at the teasers, the romantic comedy vibes are clear. It is going to be funny. These days there are very few romantic comedies airing. So for those of you who are missing them, this is definitely a must on your watchlist.
3. Campus story
There are a lot of K-Drama fans who love campus stories and university settings but very few on it! "My Roommate is a Gumiho" is set on the campus with university students.
4. Love triangle (?)
The character chart does not indicate a love triangle but that Bae InHyuk is the enemy of Jang KiYong. His character SeonWoo falls in love with Lee Dam's iron wall charms and he started a one-sided love.
In the highlight video of the drama, the three of them are seen briefly interacting and the love triangle seems obvious.
5. Lee Dam's personality
If you have read the webtoon, you would know about Lee Dam (acted by HyeRi)'s personality. She is the type to say what she thinks and she is determined. She doesn't care about others and is strong in her ideas. Her life motto is "Life is made by ourselves".
In the first teasers, HyeRi seemed to portray the girl perfectly. We are looking forward to her fresh character.
6. Theme of gumiho
Gumiho or Korean nine-tailed fox is not new in K-Dramas. But every time, the dramas have been popular, for example the most recent one is "Tale of the Nine Tailed" with Lee DongWook, Jo BoAh, and Kim Bum.
We can't help but be curious about this gumiho's story!
7. Rising actors part of the cast & second couple
If you've watched the popular drama "Start-Up" (2020) you will recognize Kang HanNa and Kim DoWan or maybe you saw them in other dramas.
Kim DoWan has been consistent in delivering quality acting in diverse roles. He is definitely an actor to look forward to.
The two actors are forming the second couple of "My Roommate is a Gumiho". The former gumiho acted by Kang HanNa can't remember what is true love because she kept on meeting bad guys and the kind university student acted by Kim DoWan keeps on being dumped by girls because he is too soft. This couple already looks like an OTP on this poster.
As for Bae InHyuk, he gained popularity with the popular web drama "XX" (2020) starring EXID's Hani. He has potential and we are looking forward to his portrayal of the handsome, smart and rich sunbae who makes all the girls fall for him.
8. Based on a popular webtoon
Last but not least, the drama is based on a popular webtoon written by Na and started in 2017. The webtoon is available in English here. In Korea, the webtoon is popular and is ranked 9.97 points on Naver. How will they have adapted the webtoon!? We are curious to watch that.
The drama will air on May 26 on tvN and is available on iQiY. For more about the drama and webtoon, don't forget to check our cast and summary here.
Here is the highlight video if you've missed it.