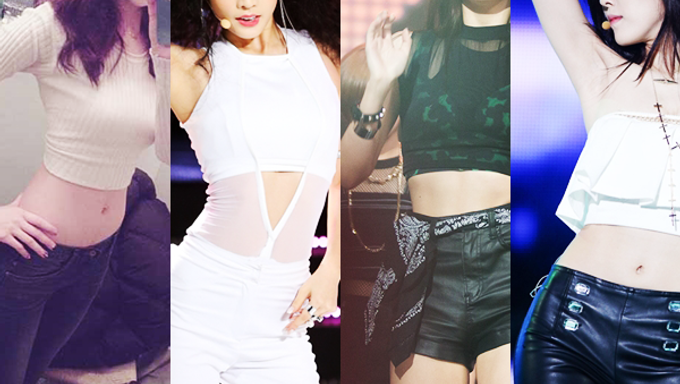 Many Korean female celebrities are still obsessed with their weight and body shapes. 

Must Read : Top 3 Female Rookie Idols With Sexiest Body
As we now know, many stars' bodies cause a serious case of envy and make us rush for gym memberships. The stars especially put great emphasis on a part of their body. Some of them already amaze fans with them. And also, as a crucial part of the body, it has also maximized women's femininity. What does it look like? That is a tiny waist. How do all these hot famous women have such small waists? And how do all these celebs have waists that measure like 20 inches? So we list a host of Korean beauties and Kpop stars who stimulate dieters. 
AOA Mina
Waist size : 19 inches
KARA Koo Hara
Waist size : 20 inches
APINK Son Naeun
Waist size : 20 inches
These female stars join a long list of celebrities who are known for their "ant-sized waist." Following the hourglass shaped female celebs, let's get inspired for your next core workout with photos of these famous females rocking the slender waist in Korea. Scroll through the gallery to see which female celebrities have been blessed with such wraps waists and what their sizes are.  
SNSD Yoona
Waist size : 22 inches
Rainbow Oh Seung Ah
Waist size : 22 inches
Nine Muses Minha
Waist size : 22.5 inches
Miss A Fei
Waist size : 23 inches
T-ARA Hyomin
Waist size : 23 inches
TWICE Mina
← TWICE Profile
Waist size : 24 inches
Must Read : Korean Beauty Tip Tuesday: Best Hair, Face & Body K-Trends