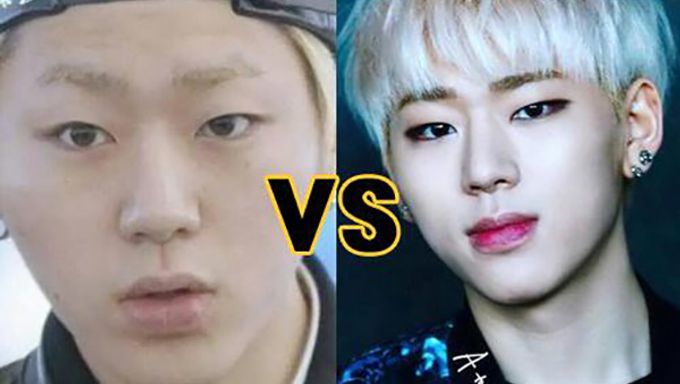 Nowadays, make-up is no longer the exclusive property of woman.
You can see a lot of male celebs with a makeup. Its makeup emphasizes not only the masculinity of them, but also their sexiness. Look at below. Who is most different? and we're just wondering 'What other people thought of men searing eyeliner and makeup?'
Must Read : 11 Korean Celebs Without Makeup
Makeup for male idols is always changing and using it with diverse methods, and they, especially, want to show their fans a lot of things just for 4 minutes so the makeup is another way to give off their charm to the public in the stage. These are makeup before and after of male celebs. So check out our collection of male celebrities before and after the magical touch and catch them without the thick layers of powder, smoky eyeshadow and mascara, and it's a whole different story. Which star surprised you the most with his before and after photos?
9 Extreme Manliners' Before And After Photos 
1.  Block B ZICO 
Must Read : 10 Things Kpop Stars Show Off Finger Heart
 2.  Teen Top Niel  
Must Read : Idols' Plucky Solo Debut That Adorned The Year
3. BEAST Jang Hyun Seung
Must Read : Netizens Suspect Fan Meeting Absence BEAST Hyunseung of Dating Rumor
4. EXO Baekhyun  
Must Read : Label Mate SNSD Taeyeon and EXO Baekhyun End Their Relationship
5. MBLAQ G.O 
6. BTOB Ilhoon 
Must Read : BTOB Fighting To Sit Next To Red Velvet Irene
7. GOT7 Jackson
8. Infinite Dongwoo 
Must Read : f(x) Krystal Gets Along With Infinite L
9. Hwang Kwang Hee 
Must Read : 10 Things You Must See Female Celebs' Miracle of The Makeup Techniques