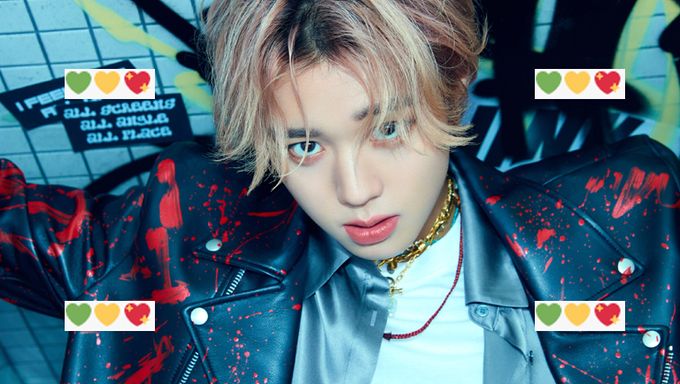 A lot of K-Pop fans are using Twitter and the fan accounts are often covered with emoji(s) related to their fandoms.
There are several types of K-Pop emojis used on Twitter. The most commonly seen are emojis seen for comebacks (if the group has, as not all of the groups have), with the group hashtag, its members hashtag, and/or special hashtags having a special emoji given by Twitter. Moreover, as you most probably know, each member in the group has his/her own emoji widely used in each fandom to talk about this member. But we are not talking about these today!
Aside from these emojis, there are other ones widely used by fans and sometimes the idols themselves. It is like special emojis for each fandom. It is used by fans of this fandom in their profiles or in their tweets. We gathered a few of these emojis used by the group and the fandom widely.
Heart emoji with official colors
1. Park JiHoon
💚💛💖
Park JiHoon is using officially these cute heart emojis with colors similar to his official colors: spring bouquet, lemon tonic, and peach pink. MAY also widely uses these three hearts.
2. ChungHa
💚💙💜 & 🌙
ChungHa is also using her official colors in her three heart emojis and also her official moon logo with the crescent moon emoji. Byulharang is also using both of them.
3. BTOB
💙
Melody and BTOB members are using blue hearts because BTOB's official color is sky blue.
4. VICTON
💙💛
VICTON and ALICE are using the blue and yellow hearts because of the official colors: blue atoll and blazing yellow.
Emojis
🍒🔫
Cherry Bullet is using cherry and pistol emojis on their Twitter. Lullet are often using the cherry emoji.
6. BTS
💜
BTS members and ARMY are using the purple heart emoji. The color purple is special for the group and its fans because of "I Purple You" and it is a symbol of love between the group and the fans (among other meanings). Fans also use this special function: ⁷.
7. SHINee
💎
SHINee and SHAWOL are using the gemstone emoji similar to the official logo of the group and the official color pearl aqua.
8. TWICE
🍭
ONCE are using the lollipop emoji which looks like their lightstick, the candy bong. TWICE also have songs on candies theme.
9. ATEEZ
🦋🏴‍☠️
ATEEZ and ATINY are using the butterfly emoji and the pirate flag emoji. For those of you who don't know, ATEEZ debuted with 'Pirate King' and so the theme of pirates. As for the butterfly, it has a special meaning for fans and the group symbolizing their special relationship, and also it is giving hope in hard times. Moreover, the butterfly is part of the group's concept universe, members use butterflies in their outfits, etc.
Did we miss out on some emojis? In your fandom, are you also widely using emojis? Let us know in the comments and we will add them.