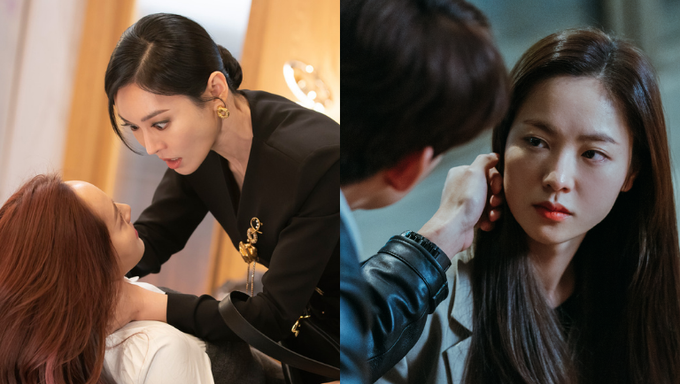 We love seeing strong female characters taking dominance of K-Drama screens these days. Some obvious characters come to mind when thinking about strong female leads such as Jo YiSeo played by Kim DaMi from "Itaewon Class," Do BongSoon played by Park BoYoung in "Strong Girl BongSoon," and Jung TaeEul played by Kim GoEun in "The King: The Eternal Monarch."
But which queens are dominating the screens in 2021? Here is an unranked list of some of the baddest female leads to appear in 2021 K-Dramas so far, this year.
1. Jeong SeoHyun and Kang JaKyung from "Mine"
"Mine" features a story about two ambitious women who married into one of the richest conglomerate families in Korea. The lead actresses are Lee BoYoung who plays the role of Seo HeeSoo, and Kim SeoHyung who plays the role of Jeong SeoHyun. They are met by a rival named Kang JaKyung, played by Ok JaYeon, who is hiding a big secret from them.
Jeong SeoHyun is married to the first son of HyoWon Group, yet has managed to make herself the center of the family. Nothing happens on their property or in their business without her knowing about it. She also finds herself having to clean up the HyoWon Group's family members' messes, as a result. Nothing that she does is without calculation and a proper strategy in place.
Kang JaKyung enters the plot to stir things up. She has a personal grudge against the HyoWon Group and her goal is to take back everything that they have taken away from her. She plays dirty when necessary and will do whatever it takes to get back what's hers.
2. Hong ChaYoung from "Vincenzo"
Hit 2021 K-Drama "Vincenzo," may be best known because of the consigliere Vincenzo Cassano played by Song JoongKi, but you cannot ignore the strong lady who was by his side throughout the drama. Lawyer Hong ChaYoung played by Jeon YeoBeen was already a badass lawyer before, but following the death of her father she took on a ruthless path of revenge. She became even more no-nonsense and even showed off her abilities to fight and fend off bad guys. Her calculative nature was nothing short of amazing.
3. Kang SeoHae from "Sisyphus: The Myth"
"Sisyphus: The Myth" is an action fantasy drama all about time travel. We follow Kang SeoHae, played by Park ShinHye, as she travels time to prevent a genius engineer from making dangerous changes to the future.
Kang SeoHae is the bold warrior type who is fearless in the face of danger. She can do anything from knocking out people who get in her way, to installing bombs and abseiling tall buildings.
4. Do HaNa and Chu MaeOk from "The Uncanny Counter"
The next K-Drama finished airing at the beginning of 2021 and is "The Uncanny Counter," starring former Gugudan member Kim SeJeong as Do HaNa, and Jo ByungGyu as So Moon.
After her family is poisoned, Do HaNa becomes a Counter (someone who captures evil spirits that have come back to Earth) and turns into a tough cookie. She is psychometric (meaning she can read the past of objects or people she touches) which helps a lot in her mission.
Meanwhile, Yeom HyeRan plays Chu MaeOk, who is the only healer amongst 5 Counters. She never backs down and is always at the frontline of a fight. She has been applauded by netizens for her tough nature and sacrificial attitude.
5. "Penthouse: War In Life 3" Trio: Oh YoonHee, Chun SeoJin, and Shim SuRyun
"Penthouse: War In Life 3" stars three fierce female leads, each with personal vendettas against each other. In this cutthroat drama, Oh YoonHee played by Eugene, Chun SeoJin played by Kim SoYeon, and Shim SuRyun played by Lee JiAh deliver low blows to each other. Be it for the sake of survival in their caste system, for the sake of being number one, or to avenge injustice.
Oh YoonHee started from the bottom with nothing and has entered this merciless world of the rich and powerful. She has also done wrong, but mostly uses the fact that the other characters underestimate her to do good.
Chun SeoJin is someone who was born wealthy and powerful. She was raised to do whatever it takes to win, even at the expense of other people, and would do the unthinkable to keep her place in the hierarchy.
Shim SuRyun is a victim of a lot of injustice caused by greed and malice. However, she doesn't allow herself to fall into a victim mentality. Shim SuRyun is like the female Robin Hood of Hera Palace (the name of the apartment the characters live in), except that instead of stealing money to get justice for the poor, she's willing to use despicable means to get justice for anyone who has been wronged (including herself).
You could argue that most female K-Drama characters are strong in their own ways, overcoming tragic or difficult storylines - but these female leads have especially come guns blazing in the face of injustice. Who are your favorite tough female leads?