gugudan's showcase was held today to ask whether you've ever met "A Girl Like gu9udan".
Kpopmap was invited to celebrate the rising rookie stars' 2nd mini-album, titled "Act.2 Narcissus". The showcase was held at the Yes24 Live Hall located in Seoul, and tons of press gathered to see what the first girl group of Jellyfish Entertainment had in store for their new promotion cycle. As expected from one of the hottest rookie girl groups, gugudan had prepared a series of performances, photo time and an in depth interview to best introduce their new album.
Must Read : MV )) Gugudan – A Girl Like Me
Get the full coverage of the focus points that you'll need to remember for their new "Act.2 Narcissus" promotions!
gugudan's "Act.2 Narcissus" Showcase
Brought to you by your friends at Kpopmap.
1. A GIRL LIKE ME
Hana, SoYee, SeJeong, NaYoung, HyeYeon, HyeBin, MiMi, Sally and Mina opened up their showcase with an amazing intro and performance of their new title track, 'A Girl Like Me'. The girls were dressed in retro black and white outfits as they strut with confidence and beauty. The lyrics asked the crowd if they've ever seen someone like them, and honestly – gugudan nailed their brand new concept! With narcissist like gestures, it was entertaining to search for the self-confident dance points in the new choreography.
2. A GIRL LIKE FASHIONISTAS
The girls' new concept outfits were black and white dresses designed in retro inspirations paired with knee high socks. Each of the outfits were designed to the members' own characteristics. Black and white can be less enthusiastic, but the girls came out with a fashion point! If you looked carefully, each of the girls had one colorful earring. From feathers to fluff, no two earrings were the same in design or color!
3. A GIRL LIKE SALLY
As the only Chinese member of the group, Sally took the mic to greet their Chinese fans in her native language. With her soft voice, she proudly greeted the fans in Chinese with the sweetest smile. Unfortunately, we weren't able to understand what she had said, so SeJeong took the mic to translate that she was excited to be back and hoped for much interest and love… or that's what she thought she said. Sally expressed that she was happy that she was able to improve her Korean since their last showcase.
4. A GIRL LIKE NARCISSIST
The group's debut concept was a fairytale mermaid, and the girls have returned with a brand new concept. The girls changed from mermaids into narcissists for their new album. SeJeong revealed that they wanted to express the message of being proud of who you are. When asked which member best embodied the concept, Sally was chosen for her beauty. NaYoung said that she fell in love with Sally when they saw how beautiful she looked on the music video.
5. A GIRL LIKE MINA
Gugudan revealed that they've received a lot of compliments from their fans, and mostly for their improved beauty. MiMi revealed that out of all of the girls, Mina became the prettiest after successfully losing weight for their new album. Mina explained that she lost 3~4 kg for their new album. She continued to say that although they're so grateful for all the compliments for their improved visuals, they hope to receive more compliments about their music.
6. A GIRL LIKE AN ARTIST
The girls' new album consists of 5 new tracks, and it's full of different genres. NaYoung revealed that their new album is perfect from day to night. 'A Girl Like Me' is perfect for the fun daytime, while soft ballad tracks like 'Wish' is perfect for the calm nights. The girls also revealed that their label senior, Ravi of VIXX, had gifted the group with a self-composed track! 'Hate You' is a cutesy song that perfectly fits the group's aegyo vocals. Their leader, Hana, was asked whose vocal style fit the album the most. After much thought, the leader voted SoYee's vocal style as her personal favorite.
7. A GIRL LIKE US
All throughout the showcase, we couldn't help but have our mouths taped to our ears. The giggling sounds of the gugudan girls were contagious as the high pitched, bright laughter of the girls filled the hall. Bubbly maknae, HyeYeon's giggles were especially the most adorable thing you've ever seen. As they were continuing the interview, you could tell that the girls were super close to each other as they laughed with their multiple inside jokes. When asked who they thought were the funniest, Sally pointed out that HyeBin was the funniest, because she had the most non-humorous jokes.
8. A GIRL LIKE NIGHT CLOUDS
To close out the night, gugudan performed their sub-track titled 'Street'. The song was the complete opposite of their title track as the girls' vocals were as soft as night time clouds. Through the slow tempo and soft whispers of love, we were able to listen to each of the girls' unique vocal tones and talent. Just as the girls had mentioned, the song seems the perfect song to listen to just before you fall asleep at night.
9. A GIRL LIKE GUGUDAN
The newly returned gugudan girls made their promises to their fans as their last goodbye for the night. The girls hope to become closer to their fans through this promotion by holding multiple events where they can be closer to the public. They also hope that their fans will fall in love with their new album to the point that "A Girl Like Me" becomes a popular saying. Let's get to know the girls better through gugudan's 2nd mini-album, "Act.2 Narcissus"!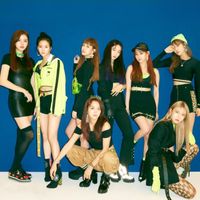 Became a fan of Gugudan
You can now view more their stories