The long awaited debut of PRISTIN is finally here, and Kpopmap was invited to celebrate the girls' dazzling launch through their debut showcase!
PRISTIN is the latest girl group of Pledis Entertainment, and the sister group to SEVENTEEN. The girls first gained stardom as the Pledis Girlz, but their debut plans were rescheduled when Zhou KyulKyung and Im NaYoung won a spot to debut with I.O.I from "Produce 101"! After years of training, the 10 girls are ready to showcase their long-awaited debut. The girls showcased a series of stunning performances, photo time and interview to better introduce us to their hot debut.
Must Read : MV )) PRISTIN – Wee Woo
Get to know all the things you've ever needed to know about PRISTIN and their debut album, "HI! PRISTIN"!
PRISTIN's "HI! PRISTIN" Showcase
Brought to you by your friends at Kpopmap.
1. HI! FASHION
NaYoung, RoA, YuHa, EunWoo, Rena, KyulKyung, YeHana, SungYeon, XiYeon and Kyla graced the stage to say hello for the first time since their official debut. The 10 girls came out dressed in one clean theme – pure white. The girls' debut theme to center around the one word, 'pure'. All of the members dressed in various styles in all white. From chic A-Line dresses to crop tops with high waist shorts, PRISTIN looked pretty, pure and powerful up on their debut stage.
2. HI! WEE WOO
As their opening stage, the girls performed their debut title track, 'WEE WOO'. The track was composed with the help of their composer member, SungYeon. The idol introduced their new title as a 'pure pop' dance track. The girls' first ever debut stage was definitely a sight to see. As expected from Pledis, the group's choreography was full of musical-like stages and innovative use of the whole stage. With beautiful expressions, gestures and kalgunmu, PRISTIN were definitely pure, pretty and powerful!
3. HI! SOUND OUT
Any idol group needs their signature greeting. PRISTIN introduced their new greeting during the showcase. NaYoung begins, "Sound out!" and the girls follow, "We are PRISTIN!" NaYoung explained that their greeting starts out with "Sound out!", meaning 'we're always ready, so call on us at any time'. PRISTIN shouted out their pure, pretty and powerful greeting with pride from start to finish of the show.
4. HI! COMPOSERS
Their debut album features songs that all of the members took part in composing or writing lyrics to. SungYeon revealed that Pledis Entertainment has a very experiment-ive atmosphere where they can freely explore their composing and producing abilities. Growing up in America, SungYeon used to write songs for her mom and her love for composing transferred over to their new album. Considering how SEVENTEEN has their very own composer (Woozi) SungYeon seems to be the similar member of the new group.
5. HI! TRAINEES
All of the members had prepared a great deal amount of time for their debut. The longest training period belonged to XiYeon, who trained for over 9 years! KyulKyung and NaYoung on the other hand had more experience as trainees through their "Produce 101" appearance and I.O.I debut. KyulKyung expressed that although I.O.I was a precious time for her, she felt a sense of desperation for PRISTIN's debut. NaYoung also spoke up to reveal that with the help of her training days in "Produce 101" and I.O.I, she feels more confident and responsible for PRISTIN's debut. SungYeon has also trained diligently not just in Pledis, but as a contestant on "Girls' Spirit".
6. HI! STAGE NAMES
4 of the 10 members debuted with stage names instead of their real birth names. YuHa was given the name to stand for happiness (Yu) in big (Ha) amounts. Rena was named after the Indian word for light, so that she can become the PRISTIN's light to shine in K-Pop. RoA's big smile is her biggest appeal, which is why she was given the name. YeHana is best known for her positive outlook, so she was given the name with Hana (meaning one in Korean). Her role is to bring all of the 10 members into one with her positive energy.
7. HI! GLOBAL GROUP
PRISTIN isn't just a simple K-Pop group, they're a global group that will one day take over the world. The girls' showcase background featured the word 'Hello' in various languages. Plus, the group has a Chinese member (KyulKyung) and two members from America (Kyla and SungYeon)! All of their tracks are titled in English so that their fans from all over the world can easily understand and remember their debut.
8. HI! BLACK WIDOW
To close out the night, PRISTIN performed their sub-track titled 'Black Widow'. If the girls focused on their pretty concept for 'Wee Woo', their 'Black Widow' performance was definitely more power-focused. The sub-track had a powerful layer of hip hop as the girls showed off their fierce and femme fetal sides in sexy hair whips and dance lines. With such diverse concept images in one group, we think PRISTIN will be one of the hottest rookie groups to debut in 2017.
9. HI! PRISTIN
With that, PRISTIN has finally made their official debut and their first debut stage. Following the strong Pledis seniors, such as Son Dambi, After School and SEVENTEEN, PRISTIN has been given a boost in positive and powerful image for their debut. PRISTIN hopes to become a staple in the industry as a girl group that's unlike any other. They hope to continue on the Pledis legacy with their pure and pretty, yet powerful image. Congratulations to the 10 members and their stunning showcase!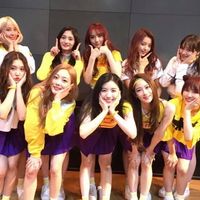 Became a fan of PRISTIN
You can now view more their stories