It's touching to see the love that some fans have for their favorite K-Pop idols.
In the past, a fan of JYJ's JaeJoong once left the veteran idol in tears. The fan, who was blind, had something quite special and heart-warming to JaeJoong when she had the opportunity to meet him.
K-Pop idols probably have a lot of the same conversation with a lot of their fans, ones that are basically exchanges of compliments. However, once in a while, they may encounter a conversation that are a little bit more special than the usual.
For JaeJoong, such was the case back in 2019.
The blind fan approached him and stated:
"I'm unable to see you with my eyes, but I can still see and feel you through your music." With a statement like that, there probably aren't that many idols who wouldn't cry.
On a side note, because JaeJoong is a visual sensation as well, one might sometimes think that a lot of fans may be inclined to be drawn to his beauty before his music. But since his music and his visuals are both great, the blind fan demonstrated exactly just that.
JaeJoong momentarily remained quite composed, but eventually began to cry, touched by how much the blind fan appreciated and admired him.
You can check out the heart-warming moment in the video below.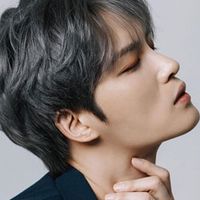 Became a fan of JaeJoong
You can now view more their stories