"Come And Hug Me" is an upcoming drama that is already grabbing attention. A dramatic drama on a unfortunate destined couple.
First teaser videos and pictures were released. Nam DaReum as Yoon NaMu (later name Chae DoJin) and Ryu HanBee as Gil NakWon (later name Han JaeYi) are acting as the main characters in middle school. The young actors are acting for the first encounter of the characters, when they first fall in love. And that is before an awful murder broke their life and linked them in an traumatic destiny.
Their first encounter is more than magical. NakWon, in the car, was passing by NaMu that was walking and taking care of his younger sister. And all this happened when the cherry blossom petals started falling down on them. Both look innocent and pure, she is wearing a cute headband and he is a sweet brother. Both are looking at each other in a breathtaking moment. Destiny came to them.
Both love story just started and their romance keeps blooming in amazing sets.
Find out more on their magical encounter in the teaser video.
The drama will start to air on May 16th.
Read More : "Come And Hug Me" (2018 Drama): Cast & Summary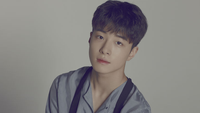 Became a fan of Nam DaReum
You can now view more their stories