The baby is growing into a lady these days.
ChaeYong of TWICE changed her looks completely this comeback.She used to have her hair short for the last couple of comebacks, not with 'Likey', she came back to her old long hairstyle. While she had a short style, it was quite clear that she was the baby of the group. Her baby-like features like round eyes, small mouth, and round facial line were emphasized to be more baby-like.  However, as she put back on her long long hair after a she has grown a bit, fans cannot help awing by her beauty. What a lady had she grown into! 
Here are some airport fashions of ChaeYong. There are pictures of when she had a short haircut and the hairstyle these days. Look for yourself and decide what looks better on her!  
1st - The Grey Semi-Suit Jacket
Maybe she is trying to get over looking like a sweet angel baby sometimes. Despite her young looks, she enjoys wearing a semi-suit jacket. (Also, it could be because the jacket was a huge hit last and this fall.)
2nd  - Black Jacket Goes Well with Everything
Again, ChaeYong has been pulling off a very adult-like clothes. Though black is for every age, sometimes, pulling off black jackets requires you to grow old to a certain age.
3rd - The Casual Fashion
Is it only me, or is it everyone else who thinks bright colors are better for ChaeYong? She seems to enjoy wearing simply with nothing else but jeans and shirts.
4th - The Best Thing About Fall, Cute Jackets
She used the weather very fully to satisfy her desire for cute jackets! Fall is the best season to wear shorts with cute jackets or if it gets any colder, you'd just have to wear long jeans instead of shorts.
5th - The Baby is Growing to be a Lady
Surely, compared to the times when she debuted, she has grown a smoother, more mature atmosphere!
6th - The Cute Geek 
Geeky fashions are always adorable if it is in the right amount of geekiness. She seemed to put the perfect amount of geekiness to her style.
Must Read : How Do We Call K-Pop Ladies On Their Baptismal Names?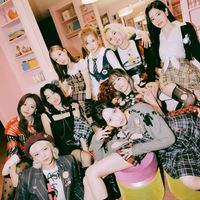 Became a fan of TWICE
You can now view more their stories