ChanYeol of EXO counts as one of the tall idols in SM along with YunHo and ChangMin of TVXQ, and  MinHo of SHINee. 
Despite his long legs and slender body which makes him look even taller, he's got such a small face. I know it's weird to say that someone has a small face. But with no intention to insult, his face is just unbelievably small.  He's got a great body proportion since he got the two crucial necessity, small face and tall height. Broad shoulders add to his stunning fit. 
What's more attractive about this guy is that his body is a well-grown man but everything about his looks says that he is still a boy. His wide eyes, big mouth that makes a wide grin and pointy ears still make him a peter pan never growing old. 
Now, what kind of styles would our peter pan enjoy wearing? Here are collections of ChanYeol's airport fashion.
1st - Not Sure If He Pulled This Off
2nd - Certainly Sure That He Pulled This Off
3rd - Keeping it Comfy
4th - Fashion of an Adult, Face of a Boy
Must Read : List Of Male Idols Who Become Sweetest With Babies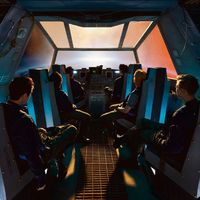 Became a fan of EXO
You can now view more their stories