If it were not for the fans who know each member's age, others may think that Im HyunSik is the youngest of BTOB.
Fans call him "Im Aggi" which means Baby Hyunsik. Among BTOB, his got the most Aggyo and smile innocently as a child. Not to forget, the playful comical energy he always has with him. Staffs in charge of HyunSik are so used to him playing around like 5 years old child.  Now, we have to consider that BTOB is one of the craziest, wildest and most comical group among idols.
Guess what. HyunSik is treated as a baby by those baseline-comical childish people. 
BTOB including HyunSik has a great concentration and passion for their music. They cannot be more serious when they are on stage. However, just as they come down, we know what happens.
Now, we might wonder, would HyunSik's fashion styles be children-like as well as his personality? Well, Let's check them out!
1st - Looking Great in Stripped Shirts
2nd- The Jockey
3rd- Cute  Match of Hat with Shirts
4th - Casual Men's Fashion (feat. Great Proportion)
Must Read : Flip It & Reverse It! 7 Idol Groups With Palindromes For Names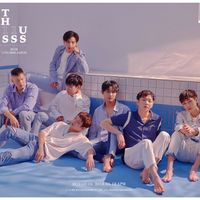 Became a fan of BTOB
You can now view more their stories