One way for an idol to move up to musician in their career life is to be acknowledged in composing. There seems to be a number of idols who have been composing for their own albums, but there aren't so many of those who compose for others. One has to be more than talented but be renowned for one's ability to compose in order for others to sing one's song. 
One of those talented idols who is acknowledged as composers is JinYoung of B1A4. He has been composing songs not only for himself and his group but also for various girl groups. People say that he understands the hearts of ladies and elaborated them well in lyrics. Not only is he working hard in composing, he keeps himself busy working as B1A4. He was recently on "Bamdokggebi", one of the shows in JTBC and gave a huge laugh to fans and audience.
People consider him to be a "born to be an idol" for his talents in various fields. Aside from his great gifts in music, his foxy gender-neutral look lures fans. Though he's got a pretty&handsome face, his body, fans say, is more musculin than he seems to be.
However, not everybody is perfect as always. He doesn't seem to wear styles that draw attention. Though simple styles fit him well, sometimes, he seems to wear an item he is into for quite a long time!
1st - The Grandpa Look
2nd - Really into White Button Down
3rd - The Fashionable Boyfriend
4th - The Casual Boyfriend
Must Read : "Master Key (2017 TV Variety Show)" Cast & Info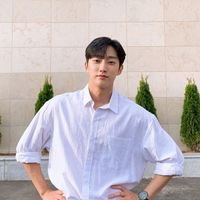 Became a fan of JinYoung
You can now view more their stories