"Thug" was a word to describe Mino of WINNER when he was on "Show Me the Money" in Mnet. Now, probably the word "Dummy" well explains who he is.
Song MinHo looks tough as zings on leather jackets when he is on stages. However, when he is off the stage or with his friends, the dangerous bad boy seems like an illusion. The gap between ordinary life Mino and rapper Mino is so big, even fans are sometimes confused. Though we like to see sexy MinHo on stages, we also love seeing him being a cute dummy. 
If he shows so much gap in attitudes from stage and down from stage, will he show a gap in fashion styles as well? 
One way to find out! Here is a compilation of Mino's airport fashion.
1st - Pulling Off Different Kinds of Jacket
2nd - Different Ways to Pull off Button Down Shirts
3rd - The Casual Wear
4th - The Jersey Look
5th - Pulling off Casual Vests
Must Read : Chart 10 Wednesday: Most Loved K-Pop Idols by Variety Shows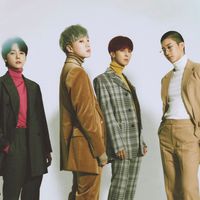 Became a fan of WINNER
You can now view more their stories