Our dear fairy, YoSeob of HIGHLIGHT, was and is and ever will be our tinker bell. There are various male idols with different heights, however, not a lot of them are under 170 cm (5.77 ft). One of the few is YoSeob, our fairy. 
However, what's amazing about him is that, despite his height, he pulls off most of what he is wearing. It's kind of a sad fact that people with long legs pull off most things better than people with short height. YoSeob doesn't seem to be sticking to that fact and demonstrated an exception himself.  Fans wondered for long on why he could look so amazing in everything, and they have found why. Despite his height, his body proportion is real fair. His legs take up a large part of his body compared to his upper body part. (Not saying that he has a short upper body part).
I know you would be curious about how he has been wearing and what he looked like in them, so here is a compilation of his airport fashion!
1st - Short Pants Makes Leg Look Longer
2nd- This Guy was Born for Fall
3rd - Going Easy but Still Looking Hotty
4th - This Guy Real Knows How to Match Things Boldly
Must Read : Top 10 Fake Maknae Who Often Gets Misunderstood As The Youngest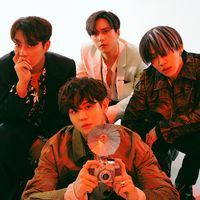 Became a fan of Highlight
You can now view more their stories