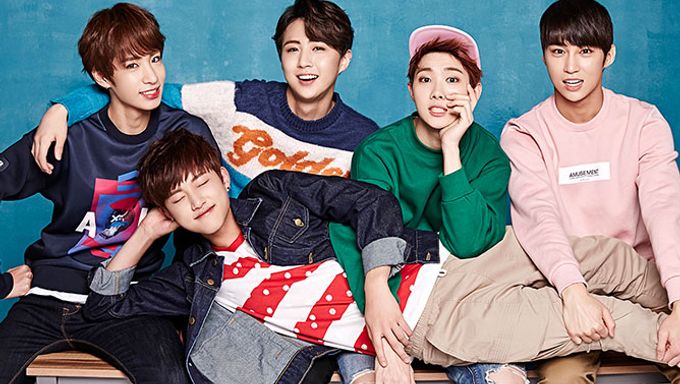 The A-JAX members cheer on their member, SeungYub, by making a cameo appearance on the web drama, "Hello Busking".
The A-JAX members tried their hand at acting for the web drama, "Hello Busking" that airs on Naver TV Cast. Member SeungYub plays the main character of the web drama that tells a story about an idol who struggles to deal with problems that arise from the industry as well as his home.
Must Read : AJAX Holds Their Successful First Fan Meeting Abroad at Beijing
To show their support for their fellow member, the rest of the A-JAX members (HyungGon, YoonYoung, SeungJin and JoongHee) came out to film a cameo appearance on the September 5th episode. The appearance was A-JAX's return to acting since 3 years ago. Although each member carried their part well, HyungGon appeared to have an outstanding knack for acting. His lively expressions and natural delivery shined on set. HyungGon said, "I thought the scenario was very entertaining, and the story of a singer was very relatable to me. I think everyone will be able to easily watch it... I hope a lot of people watch it."
The A-JAX boys also cheered on their member, SeungYub, who has been enduring the life of an actor as a soloist than with his group members. At the sight of his members' support, SeungYub expressed, "I was lonely and scared being on my own, but I feel more confident thanks to my dependable members."
"Hello Busking" episodes can be watched on Naver TV Cast with new episodes uploaded on Mondays and Thursdays at 9:00 pm.