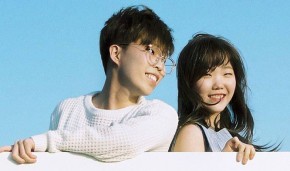 Look up in the sky! Are they the Carpenters or the K-Pop Jonas Brothers? No, it's the Akdong Musicians!
YG's favorite sibling duo, Akdong Musician (also written AKMU), have been stealing the K-Pop scene since their appearance on K-Pop Star Season 2! K-Pop artists and bands are usually formed by an entertainment company, where they train potential artists and group them together to see who fits where. However, Akdong Musician plays on the contrary as they were an already formed band (even before they started kindergarten), before Papa YG decided to take them on board.
We were first introduced to Akdong Musician, consisting of the sibling members Lee ChanHyuk and Lee SuHyun, on the second season of K-Pop Star. They won the hearts of the judges from the very beginning with their special chemistry and their inarguable talent. Lee ChanHyuk has a gift as a composer, instrumentalist, singer, and rapper! Lee SuHyun has the gift of lovable charm accentuated by her beautiful, crystal clear voice.
The siblings had first chosen their band name because of how easy it slips from your mouth, but recently their own mother had given the name an official meaning. Ak stands for the Chinese character of "Rak" that means to have fun, and Dong stands for the Chinese character meaning child.
Together they form the gifted children duo who love to have fun: the Akdong Musician!
AKMU Profile
(YG Entertainment)
ChanHyuk
(Lee ChanHyuk)
Birth: September 12, 1996
Height: 159cm
Weight: 58kg
Education: Home Schooled in Mongolia
Hobbies: Writing and Composing Music
Interesting Fact: Winner of K-Pop Star Season 2,
Composes all of AKMU's songs
SNS: Instagram
SuHyun
(Lee SooHyun)
Birth: May 4, 1999
Height: 158cm
Weight: 52kg
Education: Home Schooled in Mongolia
Interesting Facts: Winner of K-Pop Star Season 2,
Part of YG Duo HISUHYUN with Lee Hi
SNS: Instagram