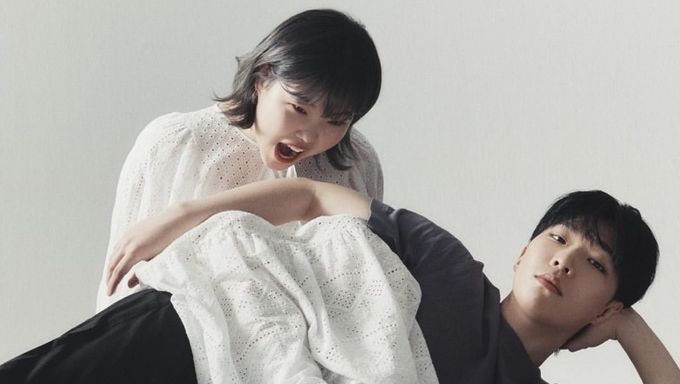 AKMU, made up of siblings Lee SuHyun and Lee ChanHyuk, is one of the most adored and highly revered music duos in the entire Korean entertainment industry. Their music is not only sonically appealing but also incredibly significant and meaningful. On July 26, 2021, AKMU officially made their comeback with a brand new collaboration album titled "Next Episode".
Concept
"Next Episode" is a collaboration album and features several incredible artists who have contributed to the same. Two track posters were revealed for this album - one for AKMU's collaboration with Lee SunHee and another for their collaboration with IU.
'Hey Kid, Close Your Eyes' has a 90s vibe to it and speaks of the future that we're leaving for the next generation. It has dark and mature themes and echoes an important message, that of the importance of peace over war, love over money. A lyric poster for this song was also released.
'Fall', featuring IU was inspired by the movie "The Greatest Showman" and aims to posit a message of hope and positivity despite the times we're living in. This seems to be the overall theme of the album as well and it is expressed in a wonderfully mature way.
AKMU also shared that collaborating with IU was a dream come true.
Fashion and Appearance
ChanHyuk wears a white printed shirt and an ochre yellow sheer jacket with a silver streak in his hair for the concept photos whereas SuHyun is seen in a magenta pink jacket layered over a fuchsia pink dress. SuHyun pairs it with a cool pair of sneakers.
In the press conference photos, AKMU keeps it simple and chic. SuHyun has paired a white t-shirt with a white blazer, a sage green midi-skirt, and an off-white pair of heels. ChanHyuk keeps it black and white, looking dashing as ever.
Music and Music Video
"Next Episode" is made up of 7 songs in total, spanning 24 minutes and 45 seconds. The songs are 'Hey Kid, Close Your Eyes' featuring Lee SunHee, 'Nakka', featuring IU, 'Bench' featuring Zion.T, 'Tictoc Tictoc Tictoc' featuring Beenzino, 'Next Episode' featuring Choi JungHoon of JANNABI, 'Stupid  Love Song' featuring Crush and 'Everest' featuring Sam Kim. The official music videos for 'Hey Kid, Close Your Eyes' and 'Nakka' have been released.
Both the music videos are connected in some ways, which reveal themselves upon close inspection. They're both equally aesthetically pleasing and have an otherworldly quality to them. IU's feature couldn't have been better placed. Overall, this album is one of the finest pieces of art of this generation and will undoubtedly be cherished for a long time.
What is your favourite song from "Next Episode"?
※You can vote multiple times without sign in.