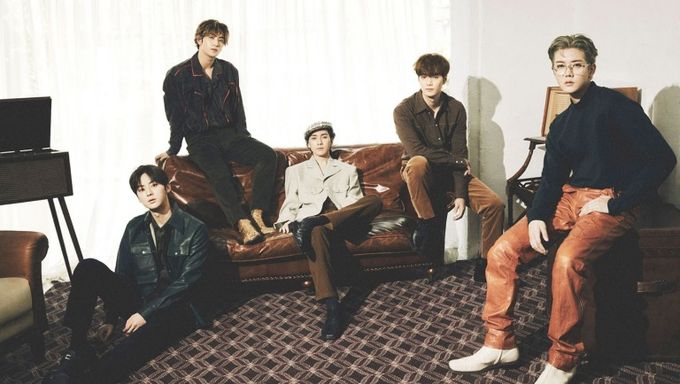 NU'EST  have successfully marked their comeback with the release of their first full-length album in almost 7 whole years and safe to say, they're back with a bang. Fans will attest to the fact that NU'EST has a classic pop sound that they have reformed into their signature sound and fans have missed them, to say the least.
The 2nd Album "Romanticize" comes to us with a whole host of new genres while also retaining the authenticity that characterizes NU'EST. The tracklist includes 'Dress', 'Inside Out', 'Don't Wanna Go', 'Black', 'Drive', 'Earphone - MinHyun Solo', 'Need It - BaekHo Solo', 'Doom Doom - JR Solo', 'Rocket Rocket - Ren Solo' and 'I'm Not - Aron Solo' and each one keeps taking the album to a crescendo from which we never really come back. BaekHo very commendably wrote the lyrics to the first five songs on the album besides his own solo track and also participated actively in the composition of the six tracks, which is perhaps why the album feels uniquely personal while also varied at the same time.
'Dress' is reminiscent of EXO  and SHINee , with a perfect blend of rap and vocals coupled with EDM and swing beats. The hook is addictive, to say the least, and this will perhaps be the song that's most commonly listened to by fans and non-fans alike. This is also likely to be the song that introduces a whole new host of fans to the group. It is perfectly catchy and representative of their energy and there's no way you can skip this one.
'Inside Out' wastes no time in getting straight to the point. There's a certain urgency to the song that is undeniable which is amplified by the bouncy rhythm. The vocals are simply immaculate in this track and the quick alternation between soft and gentle to strongly and impactful works wonders for the entertainment quotient of the song. It's impossible to get tired of this beat.
Just when you think you're getting used to the vibe of this album, NU'EST throws you a curveball with an emotional ballad 'Don't Wanna Go', that feels almost like a K-Drama OST. Once again, vocals this beautiful and angelic are simply inimitable. The soft and husky tone makes the song even more touching. The lyrical quality is incredible and it is clear that the members have poured out their souls in this piece.  The instrumentals on the other hand are just the right amount of experimental, giving the song a refreshing zing.
'Black' is diametrically opposed to 'Don't Wanna Go' and while it feels like 'Don't Wanna Go' is a misfit in this narrative, it is perfectly suited to the overall mood of the album that keeps going back and forth between genres to eliminate any lingering feelings of sameness. 'Drive', a song that was released for their Japanese album in 2020 and the Korean version to which was performed at the 2020 NU'EST FAN MEETING L.O.Λ.E PAGE, acts as a kind of passage from 'Black' to 'Earphone', carrying a residual of both the styles explored in the songs respectively. It is neither too upbeat nor too mellow but still holds just the right amount of excitement to further reinforced a noticeable shift in style as we're met with  MinHyun 's solo song 'Earphone' immediately after the jumpy 'Black'. 'Earphone' is the softest and most beautiful melody on this album and truly feels like an angel's warm hug through music in your ears.
As expected from the pattern of switching things up in this album, MinHyun is followed by BaekHo  as he presents an alluring and sensual, dark-toned melody, a far cry from MinHyun's poignant musical plea. 'Need It', BaekHo's solo is desperate and needy, just as the name suggests and there couldn't have been a better transition. These two solos are perfectly complementary, like two sides of the same coin.
Finally, we get JR 's solo which sounds quite like some of the earlier songs on this album. However, the fact that his voice alone rules this entire track flawlessly is an incredible feat. As fans already know, JR's voice is one of the most unique and sought-after vocal tones in the industry. He's perfectly suited to rap as well as vocals, which makes for a fatal combination.
At this point, it is common knowledge that NU'EST aren't playing around with this album. A common thread in this album is especially that of the sheer power of vocals. Ren 's solo, 'Rocket Rocket' also sounds like the first half of the album which is a nice callback considering that this is the penultimate track, working its way up for the grand finale. Ren's voice is smooth and peppy and the ever-rising tempo culminating in the perfect beat-drop is delectable.
At the end of it all, once again as expected, we have the mellow final song, 'I'm Not' by Aron . How this song hasn't immediately been picked up by a K-Drama for its OST is truly unbelievable. It also has a nostalgic vein to it, parallel to the urgency of the first half of the album. Evidently, the order of the songs was decided with careful consideration, which gives the effect of listening to a whole range of songs within one single album. It wouldn't be an exaggeration to label this an experience, a story that listeners are reading and living together along with NU'EST. This is what we've been waiting for and it's as precious as it gets.