Curious to know where KwangHee might have left for cosmetic surgeons to make him look better?
Searching online won't help because you'll only find netizens speculating without any full proof evidence to back up their claims. But luckily for KwangHee fans, or in some cases haters, the K-Pop star recently appeared on an episode 'Cool Kids' to reveal all the parts of the face he had surgery on.
It was very bold of the star to do so as not many K-Pop stars are able to openly disclose whether they actually did receive cosmetic surgery to the public.
KwangHee played a game where he held a skull up and had to reveal the part which he did not receive surgery on. So he began first by listing the parts he did get surgery on.
Number one on the list is the forehead. He stated that he had silicone injected into it.
Next on the list is the chin. He had silicone also injected into it.
And after that, the nose.
And lastly, he stated that his cheeks were the only part where nothing was done.
Read More : Cosmetic Surgeons Say It's Humanly Impossible For These Idols To Become Any More Attractive Than They Already Are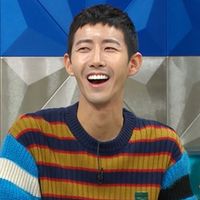 Became a fan of KwangHee
You can now view more their stories