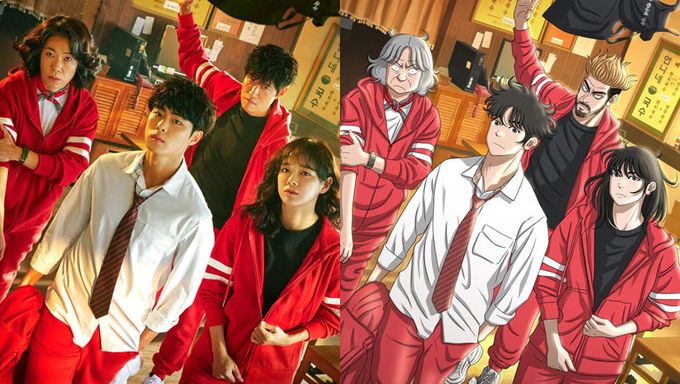 The fantasy thriller drama "The Uncanny Counter" is one more drama of 2020 to be based on webtoon.
gugudan's SeJeong is the lead actress. She previously had the lead role in "School 2017" and fans are happy to see her back to the small screen with a lead role. Jo ByungGyu will be acting his first lead role in this drama. He previously acted in "Who Are You: School 2015", "Radio Romance", "SKY Castle" and "Hot Stove League".
Yoo JungSang ("Distorted", "Liver or Die", and "Graceful Friends"), Yeom HyeRan ("Live", "Chocolate", "Mystic Pop-Up Bar"), and Ahn SukKwan ("Six Flying Dragons", "100 Days My Prince", "Clean with Passion or Now") are also lead actors.
Here is more information.
The Uncanny Counter (2020)
Information
Title: The Uncanny Counter / Amazing Rumor / Extraordinary Rumor / Gyeongiroun somun / 경이로운 소문
Director: Yoo SunDong
Writer: Yeo JiNa webtoon by JangYi
Network: OCN x Netflix
Runtime: From Nov. 28, 2020
# of Episodes: 16
Genre: Action, hero, fantasy
Language: Korean
Summary
It tells the story of evil spirits of the afterlives who come down to earth to have eternal life and "the Counters" that are capturing them.
Cast
Gugudan's SeJeong as Do HaNa
With her special hearing ability, she can guess the location of evil spirits. She also has psychometry ability: she can read the past of people or objects but she can't read hers.
Jo ByungGyu as So Moon
He is the only surviving child of an accident. He is living a tough life depending on his maternal grandparents.
He underwent several surgeries that were difficult for a child, he endured them but was not able to fully recover especially his leg which ended up limping. He wants to live as quiet as possible. However, because of the way he is walking, he is receiving too much attention.
Yoo JungSang as Ka MoTak
A powerful Counter. He is a former police officer who lost his memories in an accident 7 years ago and woke up after 6 months of coma. He can't stand injustice. He is the life teacher of So Moon. He is trying his best to get rid of evil spirits.
Yeom HyeRan as Chu MaeOk
She is the only healer among the five Counters.
Ahn SukKwan as Choi JangMoo
He is the first Counter of Korea. He is a rich chairman.
Teaser & Posters
Here is one of the teasers.
Here are the official posters.
About the webtoon
The webtoon "Amazing Rumor" (in Korean "경이로운 소문") by JangYi was first published in 2018 and the season 2 is currently on-going.
You can read the webtoon in Korean here and English here. Here is a quick look at it.