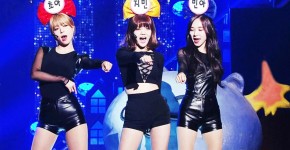 Another round of speculation regarding plastic surgery has started?!
The hottest female girl group AOA's pre-debut(past) pics are becoming BIG ISSUE these days. Only after these pictures were posted on the  gossip communities, many netizens noticed that the hottest female idols appeared different and pointed out the change in their nose, eyes and cheekbone. So we just posted below pictures as we had done some research through the internet. 
On the other hand, the fans of the group have strongly opposed about it, saying that, "They're getting prettier, as they turned twenty. The girls did not get plastic surgery, and simply became prettier; there is nothing more than that."  
AOA officially debuted in 2012 and since then, they focuses on gathering a broader audience, as a sexy concept was generally conceived as a thing for veteran singers. After the success of  "Miniskirt", they have grown to receive a lot of love from a public. 
Whatever the case, The idol group is popular and we can understand them because of their public appearances as a star. Moreover, the biggest difference between past and

 present of the girl group

 is that the 7-members is now enjoying success.