AOA's SeolHyun's curiosity made Kim YoungChul tremble in fear.
On the episode of "Knowing Bros" that will broadcast on 7th, AOA appeared on the episode as transfer students.
AOA confidently appeared on the show, promising that they'll make every member's names become well known afterwards. AOA showed a perfect teamwork with each other, and also with the hyungnims of the show.
In the recent recording, SeolHyun's question made Kim YoungChul tremble in fear. When "Knowing Bros" members asked if the AOA members were curious about anything regarding the show, SeolHyun. known for her curiosity, asked "Will Kim YoungChul really leave the show if the viewer rating goes over 5%?", surprising Kim YoungChul.
Kim YoungChul then complained to Kim HeeChul, who brought up the promise in the first place. The two fought over who was at fault, and other members debated about whether he'll keep that promise or not. They asked Kim YoungChul questions almost like it's a hearing, making him sweat in his seat. Seo JangHoon said "This episode with AOA, isn't it dangerous for him then?", scaring him again.
"Knowing Bros" with AOA on it will broadcast on 7th, 11PM KST.
Must Read : MV )) AOA – Excuse Me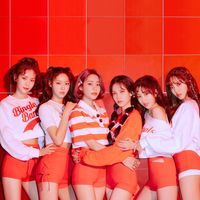 Became a fan of AOA
You can now view more their stories