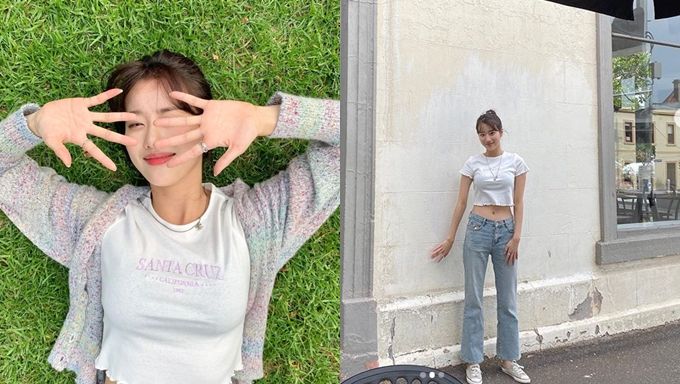 April's NaEun is traveling in Australia and updated her Instagram with numerous pictures on Feb. 10 along with the caption "By any chance, did I laugh too much today?".
She looks like she is having a fun and happy time during her trip. NaEun looks gorgeous with a crop white tee-shirt and jeans highlighting her pretty figure. In the pictures, she smiles prettily at the camera.
Kim HyeYoon which who she acted in "Extraordinary You" funnily answered her question by commenting: "Maybe ..." with a smiley emoticon.
Labelmate KARD's SoMin also left a heartwarming message: "So pretty. Have a good time there."
You can follow NaEun here @betterlee_0824.
Netizens and fans commented: "You are so pretty", "Lovely", "Wow", "I love you", "OMG you are in Melbourne?", "Be safe", "You look like a doll", "Cute baby", "Fairy", etc.
NaEun is one of the most popular female idols with her various activities as MC for SBS "Inkigayo" and acting in "A-Teen 2" and "Extraordinary You".
Do you also like her pictures?