Recently on online communities and Twitter, a hashtag #ARMYIndependenceDay was trending and it made many fans wonder what was going on. For those who do not know, ARMY is the official fanclub name of boy group BTS.
Looking deeper into this situation it was revealed that days before the hashtag begin to trend, another hashtag, #ArmysRuinedKpopParty was also trending.
For many who may be confused by this situation, there are many cases when a K-Pop fan is a fan of many other groups. However in this case, since there are so many fans who only listen to BTS, the other fans felt that they were being a party-pooper. They ended up saying that they have ruined the supposed 'K-Pop party' and asked them to stop supporting them if not they would be excluded from the rest of the K-Pop communities.
Yet, instead of being angry, ARMY decided to turn the situation into their upper hand and declared 'independence' from other K-Pop fans. They began to upload edited pictures of the seven boys of BTS running their own 'nation' and create hilarious memes.
In addition to that, they even edited a picture that is their 'national flag'.
Needless to say. it received many positive comments and even caught the attention of K-netizens!
What do you think of this situation?
Read More : ARMY Are Asking A Break For Hardworking Superstars BTS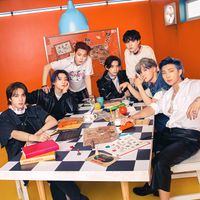 Became a fan of BTS
You can now view more their stories