Just recently, a Chinese rapper by the stage name D-Day had a lot to deal with after BTS fans began criticizing the rapper for allegedly plagiarizing the idol group's song 'Ddaeng'.
Now we understand that in this age, it's hard to come across a song that sounds completely original and never done before. But the two songs definitely seem to sound much too similar too each other. They seem to have almost the same structure judging by the wave form and also in the same key.
Have a listen below and compare for yourself.
Chinese Armys found that an artist copied the same instrumental of Ddaeng. The company stated that the song was made and produced by themselves.
Please retweet to spread the word and report to BigHit ( protect@bighitcorp.com ) pic.twitter.com/LakOwGhtu0

— ً (@mygtrivias) December 30, 2018
이 좋은 날에 진짜!!!!!!! 감히 땡을 표절해????????? 죽고싶냐????!!!!!!!!!!! pic.twitter.com/Lno9YZMrHd

— 약속모드 (@JMLOVEMODE) December 30, 2018
And below are what BTS fans have been commenting on Twitter.
What tf is this how dare this person plagiarized the masterpiece ddaeng and said it was produced by themselves wheb receipts are everywhere. Bighit do something pls @BigHitEnt https://t.co/kQuOfrEMSj

— eva / #약속 (@introddaeng) December 31, 2018
@BTS_twt @BigHitEnt @bts_bighit
Plz do something about this!
our beloved 《Ddaeng》was plagiarized by this person who just announced it as his "original works".
and it was already uploaded to WangYi music app (one of the biggest music platform in China#BTSatMMA #BTS pic.twitter.com/DzynIcSNLa

— shalltearV (@xiatiya1230) December 30, 2018
However, D-Day's agency released an official statement defending their artist and claiming that the two songs have a completely different chord progression and melodic composition.
D-Day's song has recently been taken off of streaming platforms for reasons citing 'illegitimacy'.
Does this seem like blatant plagiarism? Or is it just mere coincidence? Feel free to enlighten us.
Read More : IZ*ONE vs. CLC, Fans Talk About Song That Was Originally Intended For Latter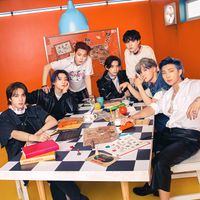 Became a fan of BTS
You can now view more their stories